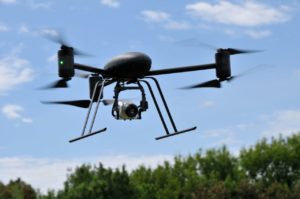 U.S. government restrictions on foreign drones have opened up a $1 billion market for North American manufacturers, according to the CEO of Saskatchewan-based Draganfly Inc.
On Oct. 30, the Department of the Interior grounded its fleet of 810 drones. Of the latter, 121 are DJI drones, 665 are non-DJI Chinese-made drones, and 24 are U.S.-made drones with Chinese-made electronic components, according to the department.
The department said that the grounding will not apply to emergencies in which drones are needed, such as fighting wildfires, conducting search and rescue and handling natural disasters.
"There's about $1 billion in revenue right now for strategic commercial work, military and government work that is being done that comprises drone sales or services that now can't be done by Chinese drone companies," Cameron Chell, the CEO of Draganfly, wrote in an email. "There are maybe three or four companies that can capture that work, and Draganfly is one of them."
"Companies like FLIR Systems, which just acquired Aeryon Labs, or AeroVironment, would be considered competitors, but even still, these companies are also customers and partners of ours and are examples of how tight knit the drone market really is," according to Chell. "There are dozens and dozens of smaller drone companies, but they don't possess a patent portfolio or the credentials to do this type of work, at least not at scale."
In September, Sen. Rick Scott (R-Fla.) introduced the American Security Drone Act of 2019, S. 2502, co-sponsored by Sens. Tom Cotton (R-Ark.,) Marco Rubio (R-Fla.), Josh Hawley (R-Mo.), Marsha Blackburn (R-Tenn.), Chris Murphy (D-Conn.), and Richard Blumenthal (D-Conn.).
The bill before the Senate Homeland Security and Governmental Affairs Committee would largely prohibit U.S. government buys of foreign-made drones, such as those by the Chinese firm DJI. In November, Rep. Mike Gallagher (R-Wis.), introduced a companion bill in the House Oversight and Reform Committee. A similar bill, the Drone Origin Security Enhancement Act, H.R. 4753, passed the House Homeland Security Committee in October as part of an aviation security package.
A recent Department of Homeland Security-funded report examining information security risks associated with drones found no evidence of data leakage, or the ability for data to be covertly retrieved, from two DJI drones used by the Department of the Interior.
The report and accompanying risk assessment, prepared for DHS by the Idaho National Laboratory, follow a department-wide warning about cybersecurity risks associated with Chinese-made drones. The two DJI drones examined–the Matrice 600 Pro and Mavic Pro–were equipped with a set of cybersecurity upgrades called Government Edition. Two other non-DJI models, provided by the Department of the Interior, were also tested.
The report characterized the cybersecurity tests conducted on the drones as a "limited-scope analysis" and said "that doesn't not mean [data leakage] cannot happen with the right conditions and circumstances."
Other drones, beside the Matrice 600 Pro and the Mavic Pro, used by the Department of the Interior include the Anafi by the French firm, Parrot SA; the Autel EVO by Washington State-based Autel Robotics, which is owned by the Chinese company, Autel Intelligent Technology; the FireFLY 6 PRO/S by the New Hampshire-based BirdsEyeView Aerobotics; the 3DR Solo Quadcopter by California-based 3D Robotics; and the 55TM Helicopter by the California-based AeroVironment, Inc.
The latter drone includes a fully automatic flight control system, 3 or 5 axis redundant IMU options, a Honeywell [HON] digital magnetometer, and survey grade GPS plus Global Satellite Navigation System (GLONASS) positioning, according to the Department of the Interior.
If the Department of Interior ban on Chinese drone technology continues, Draganfly and other North American companies will likely benefit.
"Our autopilot system is not built open source so our customers' data is completely secured because it's on a closed system," Chell wrote in his email. "One of the disadvantages of open source is you can't offer 100 percent security or code reliability."
The "big opportunity" in military, public safety, and large industrial markets "is secure data processing," Chell wrote. "What people want is the data, but they also want to know that it is secure."
The U.S. Army has banned the use of DJI drones since 2017.
"My position is the U.S. military will only deploy North American manufactured drones," Chell wrote in his email. "I think in regard to the U.S. government there will be some patches built to ensure low-cost Chinese drones are secure and so there will be some exemptions for Chinese drones for U.S. government and infrastructure work. Those exemptions will revolve around drones that have third-party security attached to them to ensure their data cannot be hacked. I also think Chinese manufactures will make strides and offer assurances that on some of their drones, systems will be secured. For mission critical work, the default will be to go with a North American manufacturer."