The Navy awarded Northrop Grumman [NOC] a contract worth up to $1.16 billion for follow-on production of the AN/SLQ-32(V)Y Surface Electronic Warfare Improvement Program (SEWIP) Block 3 systems.
This covers SEWIP Block 3 electronic attack systems and hardware design modifications required for aircraft carrier and amphibious assault ship installation, according to an Oct. 5 Defense Department contract announcement.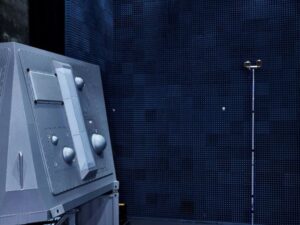 The contract value is at $101 million but includes options that, if exercised, would raise the total value to $1.16 billion
This electronic warfare system aims to give select ships a scalable electronic warfare enterprise suite with improved electronic attack capabilities. Initially they are geared toward targeting anti-ship missiles by targeting their targeting systems.
Northrop Grumman says the SEWIP Block 3 is used on surface combatants to defeat legacy and emerging anti-ship threats via non-kinetic/electronic attack capabilities. While the systems are being initially installed on Arleigh Burke-class destroyers, the company said it is scalable to other ships.
A company statement noted the contract was awarded on Sept. 30.
Work will be split among Baltimore (55 percent); Tampa, Fla. (six percent), Andover, Mass. (five percent), Chelmsford, Mass. (four percent), and several other U.S. locations as is expected to be finished by September 2026
DoD said the contract was competitively procured with only the one offer received.
The Navy previously called SEWIP an "evolutionary acquisition and incremental development program" to upgrade the current AN/SLQ-32(V) electronic warfare system.
In late 2018, the Navy awarded the company a $27.6 million modification to produce the first two low rate initial production SEWIP Block 3 units. At the time, a Lockheed Martin official told Defense Daily the first units were going on the USS Mustin (DDG-89) with LRIP delivery planned for November 2021. When installed, the two units are expected to give the destroyer a 360-degree field of vision (Defense Daily, an. 16, 2019)
The company said it approaches the system with a "software defined, hardware enabled" open architecture that integrates with other combat systems and adopts the latest electronic attack capabilities.
"With this follow-on production award, Northrop Grumman will continue to provide game-changing maritime EW capability that will underpin future Fleet Electromagnetic Maneuver Warfare operations," Ingrid Vaughan, vice president and general manager, maritime/land systems and sensors at Northrop Grumman, said in a statement.
"We are writing a new chapter in the evolution of the AN/SLQ-32 that will fundamentally change how the Fleet will win the fight for years to come," she added.
The SEWIP Block 3 program is managed by the Navy's Program Executive Office Integrated Warfare Systems (PEO IWS).