The Navy recently took delivery of the last Boeing [BA] Block II F/A-18E/F Super Hornet as it starts to transition to the Block III variant while the service awarded a contract to prepare for more life extension upgrades to existing aircraft.
"Aircraft E322 will leave Boeing's production line and head straight to Strike Fighter Squadron (VFA) 34 based in [Naval Air Station] Oceana," Cmdr. Tyler Tennille from the Defense Contract Management Agency (DCMA) said in a statement. DCMA oversees Acceptance Testing.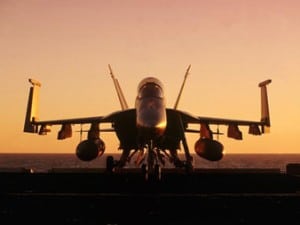 Naval Air Systems Command (NAVAIR) noted this milestone occurred on April 17 and with it the service has accepted 322 one-seater F/A-18Es and 286 two-seater F/A-18Fs, the service said April 23.
Tennille underscored the Block II variant was "a game changer" when it first came online in comparison to the initial Block I aircraft. The Block II includes an Active Electronically Scanned Array (AESA) radar, larger cockpit displays, upgraded avionics and sensors, and increased range.
"The robust airframe was built with an open mission systems architecture, which has enabled easy integration of new weapons and technologies," the Navy said.
The Super Hornet has about a 50 percent higher range and weighs 7,000 pounds more than the previous F/A-18 A/B and C/D Hornets while having lower maintenance demands.
Now the Navy and Boeing are shifting to newer Block III aircraft.
"Delivery of this last production Block II Super Hornet is hardly the end of an era, but rather a stepping stone along the path to continuously evolving our platforms to meet the Navy's ever-evolving needs. Block III delivery is just steps behind and the production lines won't miss a beat, with the first two U.S. Navy Block III test jets delivering in the next two months, followed by delivery of 24 E/F aircraft over the next year for our international customer, Kuwait," Capt. Jason Denney, program manager of the F/A-18 and EA-18 Program Office (PMA-265), said in a statement.
The Navy awarded Boeing a $1.5 billion contract in 2018 to build and deliver 22 F/A-18Es and six F/A-18F aircraft to Kuwait, with the work set to be finished by January 2021 (Defense Daily, June 28, 2018).
In 2018, Boeing said most of its 2020 new F/A-18 deliveries will be the Kuwait order, which will act as a bridge to the Block III aircraft set to start being delivered at the end of 2020 (Defense Daily, May 25, 2018)
When Dan Gillian, vice president of U.S. government services at Boeing, led the F/A-18 Super Hornet program in 2018 he told reporters the Kuwait aircraft would "be the most advanced Super Hornets ever delivered" and they "fit in perfectly with the Block III" but did not disclose specific improvements or ties to the Block III variant.
Last year, the Navy awarded Boeing a $4 billion multi-year procurement contract to build and deliver 78 full-rate production Block III F/A-18E/F Super Hornets to cover fiscal years 2018-2021 (Defense Daily, March 21, 2019).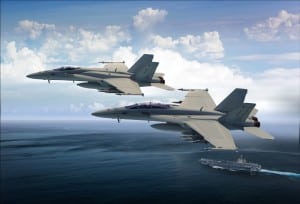 The Block III aircraft are planned to feature improvements like conformal fuel tanks to add 100-120 nautical miles of range, a 10,000-flight hour lifespan, reduced radar signature, enhanced network capability, upgrades to the Lockheed Martin [LMT] Block II Infrared Search and Track System sensor, upgrade the AESA radar, an enhanced communicated system, new datalinks and computer, enhanced engines, and an advanced cockpit system.
NAVAIR said with the Block III award it is "realizing more efficient production rates and providing the supporting industrial base with stability and advantages in production and spares planning."
NAVAIR noted it expects Boeing to deliver the initial two Block III test jets as early as late spring this year, with testing to follow at Naval Air Station Patuxent River, Md., and Naval Air Weapons System China Lake, Calif.
"The solid partnership with Boeing for the Block III production and modification programs ensures the Super Hornet will remain not only relevant, but ready to fight in today's dynamic global environment and well into the future," Denney added.
Separately, on April 24 the Navy awarded Boeing a $75 million contract in support of F/A-18E/F Super Hornet fighter aircraft Service Life Assessment Program and Service Life Extension Program Phase C follow-on effort.
The award covers non-recurring engineering to assess the fatigue life of the aircraft as well as its subsystems and structures to extend the service life of the F/A-18E/F beyond its original 6,000 flight hour service life.
The work will be equally split between Boeing's facilities in St. Louis and El Segundo, Calif., and is expected to be finished by April 2025. No funds were obligated at time of award but will be provided for individual orders as they are issued.
This is likely part of the Navy's effort to upgrade its existing Super Hornets to the Block III version in a Service Life Modernization (SLM). The first step will improve flight hours from 6,000 to 7,500 and a second will move to nearly 10,000 flight hours while adding the other Block III improvements.
Boeing delivered the first SLM updated F/A-18 E/F Super Hornet in February and said it expected to deliver the second by the end of February and the third in April. Overall, the company expected to deliver six total SLM modified Super Hornets in 2020 (Defense Daily, Feb. 6).
Last year, a Boeing executive said the company plans to ultimately modify 40 Block II Super Hornets per year and as of May 2019 has inducted seven Block II aircraft into its facility for modification. Between the SLM work on existing aircraft and the new-build Block III aircraft, the company expects Block III production to last through 2033 (Defense Daily, May 7, 2019).