Naval Air Systems Command (NAVAIR) expects to negotiate a sole source contract with Sikorsky [LMT] for Low Rate Initial Production (LRIP) of Lot 5 and 6 of the CH-53K King Stallion helicopter, the Navy said in a presolicitation post.
According to a FedBizOpps notice posted Tuesday, the Navy intends the contract to be initially issued as an Advance Acquisition Contract (AAC) in fiscal years (FY) 2020 and 2021 for long-lead items in support of subsequent production purchases. The production buys will be funded through FY '21 and '22, respectively, for Lot 5 and Lot 6.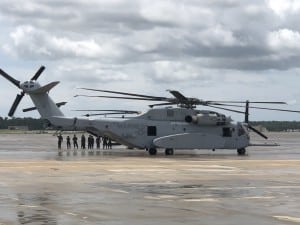 The notice said Lot 5 will consist of an estimated eight helicopters while Lot 6 will be another 11. However, the Navy noted actual aircraft quantities will be procured n accordance with congressionally-approved quantities.
The notice said the LRIP contract will be awarded on a fixed price basis and will consist of "nonrecurring and recurring engineering necessary for the procurement, fabrication, and assembly of aircraft, and installation integration of components and equipment including contractor furnished Equipment and Government Furnished Equipment into the aircraft."
This will also include logistical support as well as test and checkout of assembled aircraft.
The procurement will be in accordance with statutory authority for non-open competition because Sikorsky is the only responsible source. The company is the designer, developer, and only producer of the CH-53K.
Last month, NAVAIR awarded Sikorksy a $107 million advance acquisition contract modification to procure long-lead items for six LRIP Lot 4 CH-53Ks (Defense Daily, Aug. 16).
The CH-53K is a heavy-lift cargo helicopter redesign and expected replacement for the Marine Corps' CH-53E. The King Stallion is scheduled for deployment in 2024.