The Navy's new narrowband satellite communications system finished a test and evaluation phase, marking it as fully operational and assessed as operationally effective and suitable.
The Navy's Mobile User Objective System (MUOS) is a five-satellite constellation that aims to provide narrowband satellite communications for Defense Department and other government organizations. The service said it recently completed a required Multiservice Operational Test and Evaluation. This examines measures of effectiveness, suitability, and performance in "an operationally representative environment."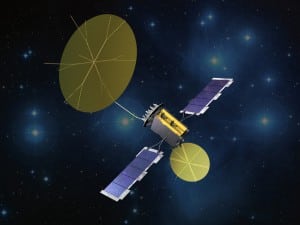 The service said this means MUOS is now ready for full operational use. Months of testing were led by the Navy's operational test agency, Commander-Operational Test and Evaluation Force. Tests included participation from the Navy, Army and Marine Corps.
"This is the last critical milestone before turning MUOS over for full operations and I am very proud of the entire team that contributed to this outstanding achievement," Capt. Chris DeSena, program manager, Navy Communications Satellite Program Office, said in a statement.
"The capability MUOS brings to the warfighter is revolutionary in terms of narrowband communications, and I look forward to seeing the potential of MUOS fully realized," he added.
MUOS satellite include legacy Ultra High Frequency Follow-on (UFO) capabilities to maintain older communications during a transition to the newer MUOS Wideband Code Division Multiple Access (WCDMA) capability. WCMDA is expected to have 10 times the communications capacity and current operators are able to simultaneously transmit voice, video, and mission data on a system that connects to military networks.
WCDMA interfaces with the MUOS ground system through a waveform that is integrated into end-user radios, modifying commercial cellular technology.
Narrowband communications are used by all combatant commands, ships, many aircraft, and ground forces in several applications.
The Navy underscored the new MUOS capability "allows warfighters to communicate beyond line of sight more securely and reliably than ever before, with 10 times the capacity and significantly improved quality of service compared to the legacy narrowband constellation."
The Navy's Program Executive Office Command, Control, Communications, Computers, Intelligence and Space Systems (PEO C4I and Space Systems) manages MUOS.
PEO C4I and Space Systems head John Pope said while sailors and Marines can currently use MUOS in humanitarian response, disaster assistance and training, that will expand.
"Now, these same advanced communications capabilities will be available in the tactical warfare environment. The advantages MUOS provides will help the warfighter compete, deter and win on the battlefield," Pope said.
U.S. Strategic Command (STRATCOM) first approved WCDMA for early combatant command restricted operation in July 2016, leading to additional testing, training, exercises, and developing concepts of operations across services.
STRATCOM then expanded WCDMA use for all noncombat operations in 2018. By August, early-adopter commands in the Navy and Marine Corps were using MUOS in deployment, largely in the Pacific region (Defense Daily, Aug. 6, 2018).
The first MUOS satellite was launched in 2013 and since then has been providing legacy satellite communications. MUOS consists of four main and one spare satellites.
The Marine Corps announced it would became the first service to use MUOS on the battlefield in June 2018 (Defense Daily, June 6).
The MUOS satellites are built by prime contractor Lockheed Martin [LMT].
MUOS-5 was earlier delayed due to propulsion problems upon experiencing a failure in its orbit-raising system while being transferred from its initial to operational orbit. The satellite was launched in June 2016 as the spare unit.
The company handed over MUOS-5 to the Navy in late 2017 after the contractor and the service worked to develop a work-around for the orbit issue (Defense Daily, Nov. 17, 2017)