Bell [TXT] is set to begin the build this month of its 360 Invictus competitive prototype for the Army's Future Attack Reconnaissance Aircraft (FARA) program, with the aircraft to be completed by summer of 2022 ahead of first flight in the fall of that year.
Keith Flail, Bell's executive vice president of advanced vertical lift systems, also told Defense Daily
the company is planning for Army test pilots to conduct another flight in November of its V-280 Valor offering for Future Long Range Assault Aircraft (FLRAA) program.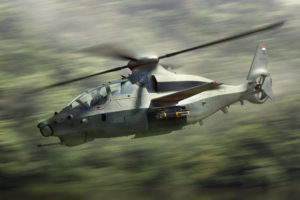 "Very soon we'll be starting the assembly work, the build, of the Bell 360 Invictus," Flail said. "We're well into detailed design and manufacturing parts. And we're currently accepting those parts into our facility out at Amarillo [in Texas] where we're initiating the build. So we're on schedule to meet all of our program requirements for FARA, and we'll actually be beginning the build of the 360 Invictus within days."
In March, the Army selected Bell and Sikorsky's [LMT] Raider X to move forward in the FARA program, which aims to find a "knife fighter" helicopter that will fill the gap left by retiring the OH-58D Kiowa Warrior (Defense Daily, March 25).
For the V-280 Valor tiltrotor aircraft, the November test flight would follow an August flight with Army experimental test pilots and arrive as the platform is set to reach 190 total flight hours.
"We've been able to show all the acceleration and deceleration capability of the aircraft, full conversion from vertical takeoff and helicopter mode into cruise mode, and then being able to have the Army test pilots fly with our pilots and being able to run the aircraft through all its paces and showcase that significant envelope that we have expanded with high speeds and low-altitude maneuvers," Flail said.
The Army, also in March, announced it selected Bell's V-280 and Sikorsky and Boeing's [BA] SB-1 Defiant to move onto the Competitive Demo and Risk Reduction phase for FLRAA, which intends to find a new platform to replace its Black Hawk helicopters (Defense Daily, March 16).
Flail said he expects the Army to release the official Request for Proposals for the FLRAA program of record before the end of this year.
"Tiltrotors, by their very nature, are built for reach, which equates to range and speed. If you look at what the Army is facing to execute multi-domain operations, and especially in the Indo-PACOM environment where you need significant legs on the aircraft to be able to operate in that theater with the extended speeds and range," Flail said. "Our technology, we've shown it. We've proven it. It works incredibly well. It's been demonstrated. And we're showing the government that they have this low risk path with Bell as that trusted company that can bring them the FLRAA solution for executing multi-domain operations."
In January, Bell told reporters the V-280 completed a successful autonomous test flight in December 2019 that included performing the full range of autonomous flight requirements, such as automated takeoff and landing, conversion into cruise mode, and precision navigation (Defense Daily, Jan. 9).
"We're very excited about that capability and having that level of autonomy, which really correlates with what you would see with a self-deployment mission if the Army chose to have the aircraft go from point A to point B without any troops in it," Flail said.