The Army's acquisition office is looking to new data-driven costing models to inform divestiture decisions, as the service aims to shift away from certain legacy systems to fully fund modernization.
Bruce Jette, the Army's top acquisition official, told reporters Tuesday the service is making progress on a model being developed out of West Point that brings in vast amounts of data to determine the precise point when to replace a system rather than continue upgrades.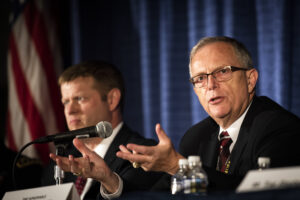 "[We] are specifically looking at methodologies for transitioning to divestiture. What things do we not need in the Army anymore because, frankly, having them on hand when you don't need them still costs you money to keep them up," Jette said.
Army Secretary Ryan McCarthy said recently the service is facing "borderline contentious" divestiture decisions as it looks to cut or truncate the buys of certain programs to shift those funds toward new weapon systems (Defense Daily, Oct. 7). 
"Understanding the relationship between when a vehicle truly is no longer maintainable and when it is simply cost effective to continue evolving them is an analysis we have ongoing right now. We have a number of years associated with different vehicles, but what we're doing now is putting hard data behind it because, frankly, the advance of some of our computing capabilities are allowing it," Jette said.
Jette said the Army's CIO/G-6 office is working on a data management tool that in combination with the cost and pricing model out of West Point will help the service make those targeted divestiture decisions.
The effort is starting with a look at the Army's Humvees, but Jette said the new model will become "a building block that we feed data into" that can be applied to any Army platform.
In June, Jette noted the Army was brushing off Cold War-era economic models to help inform implications of bringing on future weapon systems past the current six-year budget window (Defense Daily, June 8).