Textron [TXT] has completed follow-on operational test and evaluation (FOT&E) with the Army for the upgraded RQ-7B Shadow Block III drone as well as wrapping up a soldier evaluation of its offering for the Future Tactical Unmanned Aerial System (FTUAS) program.
David Phillips, the company's senior vice president for unmanned systems, told reporters recently the company received a new deal in September to deliver 36 Shadow v2 Block III tactical UAS to the Army, with the drone's suite of improved capabilities expected to keep it in service "well into the 2030s."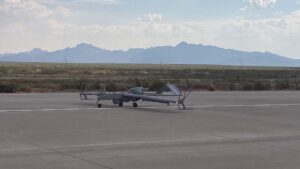 "By all accounts, that evaluation went very well and we look forward to continuing our new equipment training with the units that will be getting these new Block III systems as well as the first unit equipped which is scheduled to take place early next year," Phillips said.
Robert Dudley, Deputy Program Manager, Tactical Unmanned Aircraft System (TUAS) at U.S. Army, also told reporters FOT&E was officially completed on Oct. 8, with the evaluation showcasing Shadow Block III's new propulsion system with increased horsepower, manned-unmanned teaming capabilities and successful laser designation events with Hellfire missiles.
"The Shadow v2 Block III provides the Combat Aviation Brigade commanders with exceptional visibility with day and night operations support, 365 days, 24/7, in order to execute the missions. The upgrades associated with that Block III includes increased processing power, improved engine reliability, decreased acoustic signature and improved communications relay. We also have HD imagery incorporated and improved geo-location presence. And also extended long-range target designation capability," Dudley said. 
For FTUAS, which is the Army's Shadow drone replacement program, Textron is offering the Aerosonde Hybrid Quad UAS. 
The company concluded an extensive equipment training and soldier evaluation period with the 1-2 Stryker Brigade Combat Team, 7th Infantry Division, based at Joint Base Lewis-McChord, Washington at the end of July, that also included a three-week exercise at Yakima Training Center in Washington.
"They were able to demonstrate our system operating on the move from a ruggedized tablet computer that was integrated inside one of their tactical Humvees with an omni antenna that allowed them to operate the system on the move," Phillips said.
The Army said previously it would test the four offerings vying for FTUAS with four operational units to gather data needed to refine final requirements, according to the Army (Defense Daily, Dec. 12 2019). 
Competitors for FTUAS also include the Arcturus UAV JUMP 20, Martin UAV's V-Bat and L3Harris' [LHX] FVR-90.
"What we bring to them is an Aerosonde Hybrid Quad system that represents nearly 500,000 hours of operational maturity, by far the most mature system of any of the four systems that are being evaluated at this point," Phillips said, noting the system's experience with the Navy, Air Force and Special Operations Command. "We're the only ones in the experiment at this point with a heavy fuel engine. One, again, that has been matured with nearly 500,000 hours of operational experience."