The Chief of Naval Operations (CNO) on Tuesday said light aircraft carriers should not be compared to the current supercarriers and outlined the next large surface combatant will be smaller than the Zumwalt-class destroyer.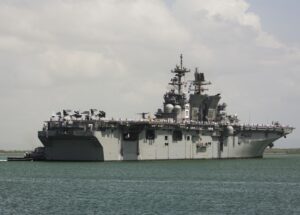 "I think the hidden point that needs to be drawn out is the comparison or not to light carriers. And so I was a big proponent of leaving light carriers or what I think is more aptly named the aviation combatant of the future because the timeframe here is 2045. So whether or not an aviation platform of the future looks like the Gerald R Ford, the Nimitz-class is questionable," Adm. Michael Gilday said during the online Defense One State of the Navy event Tuesday.
Gilday's perspective comes a week after Secretary of Defense Mark Esper outlined the Navy's new future fleet plan, called Battle Force 2045, in bare terms. While it calls for over 500 ships including unmanned vessels, it would have 355 manned vessels including eight to 11 super carriers and up to six light carriers, 70 to 80 attack submarines, 60 to 70 smaller surface combatants, and 140 to 240 unmanned and optionally manned vessels (Defense Daily, Oct. 6).
Esper said one model the Defense Department is considering for light carriers is the amphibious assault ship USS America (LHA-6), which is loaded with over a dozen F-35B Joint Strike Fighters.
Gilday said he thinks the carrier force will be driven by payload needs.
"I think leaving that line in that report and those numbers are anywhere from zero to six allows us to do much more deeper analysis to think about what types of functions in the distributed maritime fight, across the spectrum of conflict, might we want a smaller aviation combatant to do."
Gilday said one focus of a light carrier might be intelligence, surveillance, reconnaissance and targeting (ISR&T), which he said is "definitely a gap for us, definitely something that we need more of in terms of quantity."
He said the Navy is analyzing if it can close the gap with something smaller than a super carrier, which would not replace what super carriers do, but supplement the capabilities. Gilday characterized super carriers primarily conduct long range strike.
Loren Thompson, Chief Operating Officer at the Lexington Institute, wrote an option piece for Forbes on Tuesday that argued light carriers are a bad idea if the super carriers numbers move as low as eight or nine because they cannot fill the gap and "they wouldn't be capable of fighting and winning a conflict of any significant scale."
Thompson noted supercarrier shipbuilder Huntington Ingalls Industries [HII] contributes to his think tank.
Speaking about general criticisms of this idea, Gilday argued that kind of apple to apples comparisons of sortie rate, nuclear vs. conventional power, and sustainability Thompson makes in his piece are not suitable for how the Navy is thinking of using light carriers.
He said those analysis become a fait accompli that smaller carriers cannot compete with super carriers. However, "I think that that's a set of false choices and I really think that the United States Navy needs to take a look at where we're going to go in the future if there is indeed a requirement, which I think is likely, to deliver effects downrange from the sea through the air – I think that some type of aviation combatant is going to be part of it."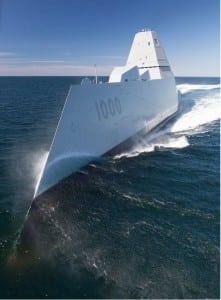 Separately, Gilday characterized the next Large Surface Combatant (LSC) as DDG Next and gave a rough idea of its size. He said while LSC makes some people think battleship, that is not where they are going.
"We're talking about a ship that's probably going to be smaller than a Zumwalt. I don't want to build a monstrosity, But I need deeper magazines on a manned ship, deeper than we have right now. And so I'm limited with respect to DDG Flight IIIs in terms of what additional stuff we could put in those ships…can't put much more on those hulls."
He said it will be "smaller than a Zumwalt but packing some power."
The three-ship Zumwalt-class (DDG-1000) destroyers are 610 feet long and have a displacement of nearly 16,000 tons. They are built by General Dynamics' Bath Iron Works.
Gilday reiterated what the Navy has previously said on LSC, that it would be a new hull "but what we would leverage is existing technologies to put on that hull and then to update, modernize those capabilities over time.
He compared it to the Arleigh Burke-class DDG-51 destroyers, with the Navy putting then-existing technologies like the Aegis Combat System on the hull and modernizing over time up to Flight III.
"We put known systems that were reliable and were already fielded on the fleet and that's kind of the idea so that's why for Gilday, I call it DDG Next so it kind of right sizes in everybody's mind, and I'm not trying to mislead anyone here. "