The Navy this week awarded Huntington Ingalls Industries [HII] a $107 million contract action for more long-lead time material (LLTM) for the future
America-class amphibious assault ship, LHA-9.
The Defense Department announcement said this is the fifth increment of LLTM awarded to HII for the unnamed future LHA.
Work will largely be split between HII's facility in Pascagoula, Miss. (50 percent); Kingsford, Mich. (15 percent); Saratoga Springs, N.Y. (12 percent); and Brunswick, Ga. (nine percent) and is expected to be finished by April 2024.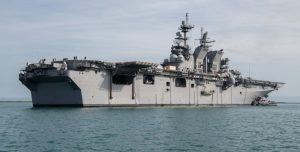 DoD said $80 million in fiscal year 2021 Navy shipbuilding funds will be obligated at time of award and will not expire at the end of this fiscal year. This award is specifically called a not-to-exceed, undefinitized contract action.
In accordance with U.S. Code regulations this contract was not competitively procured since there is only one responsible source, HII, as the builder of large-deck amphibious vessels. HII's Ingalls Shipbuilding division in Pascagoula produces these ships.
"The amphibious warship production line is a critical component of our nation's defense industrial base. This funding will strengthen our suppliers and sustain jobs across the country in support of LHA 9 construction," Ingalls Shipbuilding president Kari Wilkinson said in statement.
HII spokeswoman Teckie Hinkebein told Defense Daily this award will allow the construction of these large deck amphibious ships "to maintain efficient production intervals through the procurement of items such as elevators, power distribution equipment, anchor systems and other important system components."
Hinkebein said this funding also helps the shipbuilding base by "enabling suppliers to plan for the work and ensure appropriate facilities and resources are in place to accomplish it"
This kind of pre-construction funding will also fuel the early design and planning efforts that "will support the current plan for delivering LHA 9 in FY29," she added.
HII previously delivered the newest amphibious assault ship, the USS Tripoli (LHA-7), in 2020 while the future USS Bougainville (LHA-8) is still under construction (Defense Daily, Feb. 28, 2020).
Previously, in March the Navy awarded HII another $80 million undefinitized contract action for LLTM for LHA-9 (Defense Daily, March 5).
Last November, Fairbanks Morse said it will provide the generators for electric power aboard LHA-9 and plans to deliver the generator to the shipbuilder in 2023 (Defense Daily, Nov. 10, 2020).