The Navy's commander of the submarine forces said the service is looking at three tracks for SSN (X), the next generation attack submarine: using the Virginia-class attack submarine, Columbia-class ballistic missile submarine, or a totally new hull form.
"We are looking at three different ways to build that out. We're looking at what can we do to Virginia, what can we do to Columbia, and what do we need to build from scratch. And with studies and initiatives with our major partners that are looking at those from all 3 of those different directions," Vice Adm. Daryl Caudle, commander of submarine force, U.S. Pacific Fleet said during the 2020 virtual Naval Submarine League Symposium.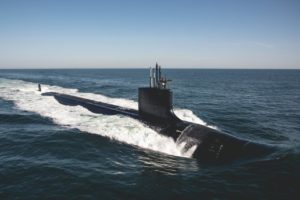 Earlier this month, BWX Technologies [BWXT] CEO and President Rex Geveden said during a quarterly earnings call that they expect SSN(X) to be significantly larger than the current Virginia-class vessels, likely closer to the Columbia-class size. BWXT builds the nuclear reactors for the Navy's submarines and aircraft carriers (Defense Daily, Nov. 4).
Geveden also said they expect SSN(X) to join the fleet in the late 2030s.
Caudle said they will get alternatives and make decisions "on how to make this new SSN match what we need to stay ahead of our peers."
He identified three main characteristics they are focusing on for the SSN(X): speed, stealth, and payload capacity.
Caudle said increased submarine speed is needed to improve every joint warfare function.
"Speed is just so important. It plays up so well in all our wargaming and so it helps compensate for bad decisions. It also helps us get to the fight faster and it helps us in all-domain maneuver warfare."
In October, Chief of Naval Operations Adm. Mike Gilday said speed would be one of the most important factors in the SSN(X) (Defense Daily, Oct. 16).
He also emphasized the importance of a larger payload capacity because "We can never get enough payload capacity." The SSN(X) analysis work is looking for the payload capacity to be modular and customizable as well.
While stealth is important, Caudle underscored "not just acoustic stealth, it's stealth across all spectrums."
He said the Navy expects by the time SSN(X) joins the fleet, peer competitors will be able to detect submarines through acoustics as well as "through algorithms that are going to break the water interface. And so those capabilities we think are coming and we have to build – basically remain clandestine with those types of capabilities in play."
These factors match the Navy's fiscal year 2021 budget request documents, which outlined the service's plans to develop and start funding work on SSN(X). In the documents, the Navy said that unlike the existing Virginia-class boats, the SSN(X) "will be designed for greater transit speed under increased stealth conditions in all ocean environments, and carry a larger inventory of weapons and diverse payloads," (Defense Daily, Feb. 13).
Caudle emphasizes the need for the right research and development investments to reach the future SSN(X) capabilities.
He said Rear Adm. William Houston, director of undersea warfare division, N97, is working on that in addition to support from the submarine forces, the Undersea Warfighting Development Center under Caudle, Program Executive Office Submarines, and the overall Naval Sea Systems Command team.
"This is something I'm going to need a full court press on to get these capabilities identified," Caudle added.