FLIR [FLIR] has received $32 million to deliver 250 more Centaur unmanned ground vehicles (UGV) to the Army, Air Force, and Navy, the company said Monday.
The Centaur medium-sized ground robots are used to assist Explosive Ordnance Disposal (EOD) teams, with the latest round of orders bringing the total program to $97 million over the last year covering 750 total UGVs.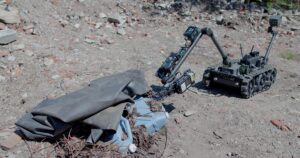 Deliveries under the latest order are expected to begin in early 2021, according to the company. 
"We're tremendously honored that EOD teams across America's military are relying on our Centaur robot to help them perform dangerous missions with greater stand-off capability," Tom Frost, FLIR's general manager for unmanned ground systems, said in a statement. "From enabling easy software updates to enhanced electro-optical infrared cameras, controllers, and communication systems, the Centaur can be a game-changer for troops on the battlefield."
Orders for Centaur are placed under the Army's Man Transportable Robotic System Increment II contract vehicle, a multi-year program of record established in 2017.
"Explosive Ordnance Disposal teams across all services will use the FLIR Centaur to assist in disarming improvised explosive devices, unexploded ordnance, and similar hazardous tasks," the company wrote in a statement. "Operators can quickly attach different sensors and payloads to the robot to address other missions, including chemical, biological, radiological and nuclear threats."
FLIR noted Centaur weighs around 160 pounds and is integrated with an advanced electro-optical/infrared camera suite and a manipulator arm capable of reaching six feet, with the ability to climb stairs.