Palantir Technologies [PLTR] has received a $34 million software procurement order from the Army in support of the service's battle command intelligence system, now known as the Army Intelligence Data Platform (AIDP).
This is the Army's third delivery order under the program formerly known as Distributed Common Ground System-Army (DCGS-A) Capability Drop 2 (CD-2).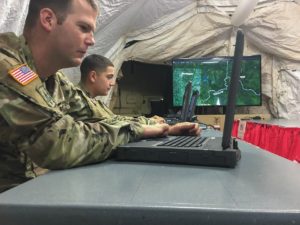 "The AIDP is designed for deployment on a scalable infrastructure that can be tailored to support commanders and warfighters at all echelons," the Army's Project Manager Intelligence Systems & Analytics said in a statement Tuesday. "It serves as the Army's primary interface to the Intelligence Community (IC) data fabric for both publishing and consuming IC products, and the enterprise foundation layer for Army Intelligence."
The Army noted the new delivery order, officially placed with Palantir on Feb. 15, also includes operator training, cyber security activities and support for operational testing and initial standup of the AIDP capability.
In February 2020, the Army selected Palantir and BAE Systems for the CD-2 program to compete for orders under a $823 million IDIQ contract to update and replace parts on the platform then known as DCGS-A (Defense Daily, Feb. 26 2020).
Palantir announced this past October it would deliver its Gotham platform as the intelligence data fabric and analytics foundation solution for the program (Defense Daily, Oct. 5 2021).
"This capability will field modern data integration, correlation, fusion, and analytic capabilities that prepare the Army for the next fight against emerging near peer threats," Palantir said in October. "The Gotham platform is an operating system for defense decision making and is specifically designed to connect the dots between disparate sources."
BAE Systems said in July 2020 it's providing the Intelligence Knowledge Environment (IKE) platform as a software framework for data and artificial intelligence analytics in support of the program (Defense Daily, July 23 2020).
"The AIDP consists of a commercial software baseline focused on providing the Army Intelligence community with a data fabric and automated analytics capable of supporting Multi-Domain Operations," the Army wrote. "The AIDP enables enterprise-level data management, intelligence production, and support to analysts in contingency, crisis, and conflict environments. These functions include storage, processing, agile modeling of data, as well as automated object-based production and advanced analytics."
Palantir is also working on the DCGS-A Capability Drop-1 program, providing data management services under an $876 million deal it shares with Raytheon Technologies [RTX] that was awarded in March 2018 (Defense Daily, March 9 2018).