The Pentagon has detailed plans to move additional troops and equipment, such as F-35 strike fighters and AH-64 Apache attack helicopters, within Europe to support allies in NATO's eastern flank, in light of Russia's planned advancements into Ukraine.
"These forces — comprised of aviation elements and ground forces — will move within the [United States European Command] Area of Operations to NATO's northeastern and southeastern flanks in coming days and are expected to be in place later this week," a senior defense official said. "These additional personnel are being repositioned to reassure our NATO allies, deter any potential aggression against NATO member states, and train with host-nation forces."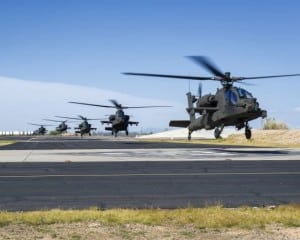 The forces being moved include an attack aviation battalion with 20 Boeing [BA]-built AH-64 helicopters from Germany to the Baltic region and an attack aviation task force with 12 AH-64s from Greece to Poland, according to the senior defense official.
The Pentagon will also move up to eight Lockheed Martin [LMT]-built F-35s from Germany "to several operating locations along NATO's eastern flank," the official said. 
An infantry battalion task force with approximately 800 personnel will also move from Italy to the Baltic region. 
"These moves are temporary in nature, and are part of the more than 90,000 U.S. troops already in Europe on rotational and permanent orders. The United States maintains significant numbers of combat-capable forces in Europe," the senior defense official said. 
The Pentagon's announcement arrived after President Biden detailed new economic sanctions that will be placed on Moscow in response to Russian President Putin's decision to propose advancing forces into parts of Ukraine. 
The White House on Friday said the costs to Russia if it invades Ukraine could include export controls of high-technology such as artificial intelligence, hypersonic flight technologies and robotics (Defense Daily, Feb. 18). 
The State Department on Friday also approved an estimated $6 billion foreign military sale with Poland that would include 250 M1A2 Abrams main battle tanks, with Defense Secretary Lloyd Austin citing the deal as bolstering the military capability of its NATO ally (Defense Daily, Feb. 18).