The State Department has approved an estimated $6 billion foreign military sale with Poland that would include 250 M1A2 Abrams main battle tanks.
Defense Secretary Lloyd Austin first announced the tank sale Friday morning following a meeting with Polish Defence Minister Mariusz Błaszczak, citing the deal as bolstering the military capability of its NATO ally while Russia continues building up its troop presence along the border with Ukraine.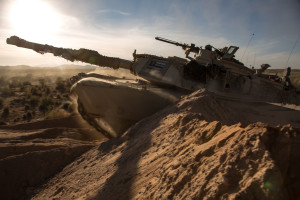 "You know, it's ironic that what [Russian President Vladimir] Putin did not want to see happen was a stronger NATO on his flank and that's exactly what he will see going forward," Austin said during a press conference alongside Blaszczak.
Austin noted the M1A2 is "the most modern version" of the General Dynamics Land Systems [GD]-built Abrams tank and said it "will provide Poland with a highly advanced tank capability."
A timeline for delivering the tanks is currently under discussion, according to Austin.
Under the deal, Poland will also receive 26 M88A2 Hercules combat recovery vehicles, 17 Joint Assault Bridges, 250 AN/VLQ-12 CREW Duke counter-IED systems, 276 M2 .50 caliber machine guns, 500 M240C 7.62mm machine guns and 15 AGT1500 gas turbine engines.
Major contractors for the deal also include BAE Systems, Leonardo DRS, Honeywell Aerospace [HON], Raytheon Technologies [RTX] and Lockheed Martin [LMT].