President Biden has signed a new stopgap funding bill to keep the government open through March 11, as lawmakers continue work to finalize fiscal year 2022 spending legislation.
The House passed the measure last week with a 272 to 162 vote and then the Senate voted 65 to 27 on Thursday evening to move the bill to the president's desk.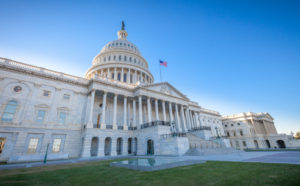 This latest continuing resolution (CR), which lawmakers passed ahead of the current Feb. 18 funding deadline, also includes a $1.6 billion anomaly to prevent delays to the Columbia-class submarine program (Defense Daily, Feb. 7).
Sen. Patrick Leahy (D-Vt.), chair of the Senate Appropriations Committee, said the CR will allow for more time to work out the details of FY '22 spending bills after Congress' appropriations leadership agreed to a bipartisan spending framework last week (Defense Daily, Feb. 9).
"We look forward to presenting our final agreement to members to review in the coming weeks. By passing this continuing resolution, we can remove the unnecessary threat of yet another government shutdown and allow the Appropriations Committees to complete our work," Leahy said in a statement. "The alternative – a full-year continuing resolution – is untenable and far too onerous on the American people. Our government is not meant to run on autopilot, and American taxpayer dollars should not be spent on outdated priorities. We have the responsibility to make the hard choices about how to invest in the American people."
Senior Pentagon officials told the House Appropriations Defense Subcommittee last month that the potential impact of having to operate under a year-long CR would lead to tens of billions of dollars in lost purchasing power and delays to hundreds of programs (Defense Daily, Jan. 12).