Senate leadership is planning for the upper chamber to remain in session in October, where the agenda is expected to include taking up the fiscal year 2023 National Defense Authorization Act (NDAA).
"We will be meeting in October. There's one week we can't meet because of the Yom Kippur holiday. But we'll be meeting in October," Majority Leader Chuck Schumer (D-N.Y.) said during a press conference on Tuesday. "NDAA will be part of what we do."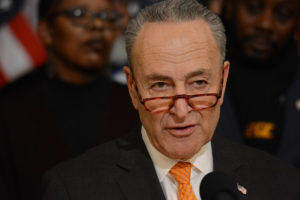 While a recess was expected in the early part of October to allow Senators to leave Washington and campaign ahead of the midterm elections, the additional legislative time is now set to include taking up the next defense policy bill.
Sen. Jack Reed (D-R.I.), chair of the Senate Armed Services Committee (SASC), said recently he was "pushing hard" to get the NDAA on the floor before any recess ahead of November's midterm elections (Defense Daily, Sept. 7).
"I'm personally engaged with Leader Schumer. And I'll try to get it to the floor before we recess for the [mid-term] elections," Reed said during the Defense News Conference on Sept. 7. "I'd like to say it's a certainty, but I cannot say that."
SASC advanced its $847 billion version of the NDAA out of committee in mid-June, after adopting a $45 billion topline increase during its closed-door markup of the bill (Defense Daily, June 16).
The SASC mark of the FY '23 NDAA authorizes funding for an seven more F-35As than requested, adds $292.6 million for an additional 22 Abrams tanks, includes $250 million for LPD-33 advanced procurement and supports continued development of the sea-launched nuclear cruise missile after the Navy sought to end the program.
SASC's bill also authorizes procurement of eight Navy ships to include two Arleigh Burke-class destroyers, two Virginia-class submarines, one Constellation-class frigate, one San Antonio-class amphibious ship, one John Lewis-class oiler, and one Navajo-class towing, salvage and rescue ship.
The House in mid-July voted 329 to 101 to pass its nearly $840 billion version of the NDAA (Defense Daily, July 15).
Both chambers will likely still have to meet in conference to settle differences for a final version of the defense policy legislation.