The Senate Armed Services Committee added $45 billion to the topline in its version of the next defense policy bill, while the House Armed Services Committee has proposed authorizing spending for fiscal year 2023 that largely matches the president's budget request.
SASC voted 23 to 3 on Thursday to advance its $847 billion mark of the FY '23 National Defense Authorization Act (NDAA), while HASC's bill supports an $802.4 billion topline, according to a copy obtained by Defense Daily.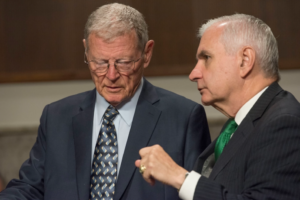 "I am especially proud that for the second year in a row, the committee almost unanimously voted to approve my amendment with the chairman that would boost the defense budget — this year by $45 billion. This is a demonstration of our commitment to our men and women in uniform and our willingness to compete, deter, and if necessary, defeat any adversaries who might threaten our American values and our way of life," Sen. Jim Inhofe (R-Okla.), the ranking member on SASC, said in a statement.
SASC, which considered its NDAA mark in a closed session, said the topline boost covers "additional security assistance to Ukraine, accelerating the production of certain munitions, providing additional resources for service and combatant command requirements and authorizing funding for additional military construction projects and facilities maintenance," while committee staff confirmed to reporters that about half of the increase is aimed at addressing inflation considerations.
Republicans had pushed back on President Biden's request of an $813 billion topline for defense in FY '23, including $773 billion for the Pentagon, calling for a larger spending increase to account for inflation impacts.
Rep. Mike Rogers (R-Ala.), HASC's top Republican, has said he predicts Congress will 'ignore' the president's budget and once again boost defense spending over the president's requested topline, following the move to increase spending by nearly $25 billion for the FY '22 bill (Defense Daily, May 2).
HASC is set to publicly release its version of the NDAA on June 19 and hold a full committee markup on June 22.
Rep. Adam Smith (D-Wash.), the HASC chair, told reporters on Wednesday he predicts an amendment will be offered to boost the topline of his panel's bill, adding he expects Congress will ultimately increase defense spending for FY '23 above the president's request by a significant amount (Defense Daily, June 15).
While largely matching the president's budget request, HASC's NDAA mark does support a $1.2 billion increase for research and development efforts and would authorize $205.3 million over the request for procurement.
Meanwhile, SASC's mark authorizes funding for an seven more F-35As than requested, adds $292.6 million for an additional 22 Abrams tanks, includes $250 million for LPD-33 advanced procurement and supports continued development of the sea-launched nuclear cruise missile after the Navy sought to end the program.
SASC's bill also authorizes procurement of eight Navy ships to include two Arleigh Burke-class destroyers, two Virginia-class submarines, one Constellation-class frigate, one San Antonio-class amphibious ship, one John Lewis-class oiler, and one Navajo-class towing, salvage and rescue ship.
The bill does prohibit the early retirement of 12 ships in FY '23, according to a summary of the legislation, to include five Littoral Combat Ships, four dock landing ships, two expeditionary transfer docks, and one cruiser.
SASC also moved to authorize $1 billion to cover unfunded requirements for the Pacific Deterrence Initiative, included $800 million for the Ukraine Security Assistance Initiative as well as more than $2.7 billion for ensuring expanded critical munitions production capacity and $1 billion to shore up strategic mineral stockpiles.
The House Appropriations Committee released its $761.7 billion FY '23 defense spending bill on Tuesday, which essentially matches the president's budget request when factoring in the separate $15.1 billion military construction proposal, and is set to consider the legislation on June 22 (Defense Daily, June 14).
The Senate Appropriations Committee has not yet released details of its spending bill.