House appropriators on Tuesday released their $761.7 billion fiscal year 2023 defense spending bill, essentially matching the White House's proposed topline, while including a slight cut for procurement and boosting research and development funding by $1.6 billion over the requested level.
The draft bill, set to be marked up by the House Appropriations Defense Subcommittee (HAC-D) in a closed-door session on Wednesday, represents a $32 billion increase over the enacted FY '22 spending level but will likely face tough opposition from Republicans who have called for larger defense budget growth over inflation.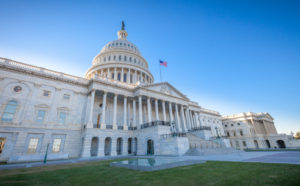 "The fiscal year 2023 defense appropriations bill is a responsible investment in our national security that will keep our nation strong and the American people safe," Rep. Betty McCollum (D-Minn.), the HAC-D chair, said in a statement. "The subcommittee held a total of 18 hearings, both public and classified, to gather input from the Biden administration as we wrote this legislation which makes strategic investments in our national security needs in order to keep America safe, secure, and strong."
Overall, the bill calls for $143.9 billion for defense procurement efforts, a nearly $1 billion cut below the budget request, and $131.7 billion for research, development, test and evaluation, with the funding boost representing a $12.5 billion increase over the FY '22 enacted level.
When factoring in the House Appropriations Committee's separate $15.1 billion military construction proposal, also released Tuesday, the spending proposal is in line with the Biden administration's call for a $773 billion Pentagon topline for FY '23 (Defense Daily, March 28).
Rep. Mike Rogers (R-Ala.), the top Republican on the House Armed Services Committee (HASC), has said he predicts Congress will 'ignore' the President's budget and once again boost defense spending over the president's requested topline, following the move to increase spending by nearly $25 billion for the FY '22 bill (Defense Daily, May 2).
Notably, House appropriators have concurred with the Navy's request to cancel the nuclear-tipped sea-launched cruise missile (SLCM-N) effort and did not include any funding for the program in the draft bill.
Rep. Adam Smith (D-Wash.), the HASC chair, said last month he sees "tough fights" ahead over proposals to cut the SLCM-N program and retire B-83 gravity bombs as Congress takes up the next defense policy bill (Defense Daily, May 25).
In the House appropriators' bill, lawmakers have fully funded many of the major procurement requests to include $7.2 billion for 61 F-35s, $2.7 billion for 15 KC-46 tankers, $430.5 million for five KC-130Js and $686 million for over 1,500 Joint Light Tactical Vehicles.
The bill would also appropriate $27.8 billion for Navy shipbuilding, covering "two DDG-51 guided missile destroyers, two SSN-774 attack submarines, one Frigate, one T-AO Fleet Oiler, one towing, salvage, and rescue ship, and one LPD Flight II amphibious transport dock," according to the bill.
Lawmakers, however, did add $273 million above the request to fund a total of $991 million for 35 UH-60 Black Hawk helicopters and boosted spending on the Army's M109A6 Paladin Self-Propelled Howitzers and M992A2 Field Artillery Ammunition Support Vehicles by $210 million to cover an additional 21 sets of systems.
For ongoing R&D efforts, the bill fully funds $2.2 billion for continued F-35 development and modernization, $1.7 billion for the Air Force's Next Generation Air Dominance Program and $1.1 billion for the Army's Future Vertical Lift program.
The bill also includes $849 million for continued development of the Army's Long-Range Hypersonic Weapon, $404 million for the service's work on a Mid-Range Missile capability and $380 million in support of the new Lower Tier Air and Missile Defense radar.
Following Wednesday's HAC-D markup, the full House Appropriations Committee is set to consider the bill on June 22.