The Senate Armed Services Committee has voted to increase the Pentagon's fiscal year 2022 topline by $25 billion above the president's $715 billion budget request in its version of the next defense policy bill.
The topline boost, which was confirmed by Sen. Tim Kaine (D-Va.) on a Thursday call with reporters, was approved during SASC's closed door National Defense Authorization markup on Wednesday.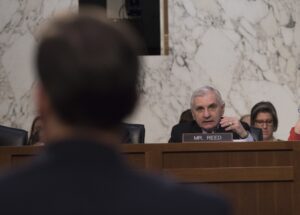 "The committee agreed, based on just the world the way that it is now and the challenges that we're facing, to increase the topline [by] about $25 billion to nearly $740 billion," Kaine said.
Kaine noted that $2 billion of the $25 billion increase will specifically go toward authorizing increased funds for shipbuilding and ship repair efforts.
"It'll be good for the [submarine] program. It'll be good for ship repairs. And I think that's all very, very positive," Kaine said.
The $715 billion topline figure, which would be a 1.6 percent increase over FY '21 spending levels, has faced persistent scrutiny from Republican lawmakers for falling below calls for three to five percent annual budget growth.
Sen. Jim Inhofe (R-Okla.), the SASC ranking member, has called Biden's defense budget request "wholly inadequate" and said "it's disingenuous to call this request an increase because it doesn't even keep up with inflation — it's a cut" (Defense Daily, May 28).
Kaine noted, while SASC's Democrats supported the topline increase measure, it's unclear whether the House Armed Services Committee will consider a similar measure when that panel takes up its NDAA markup on Sept. 1.
"We don't know exactly yet what topline the House will come out [with]. Will they do the president's number? Will they do a different one? We'll encourage them to do ours. But that may be something we'll have to work out in conference," Kaine said.
Rep. Adam Smith (D-Wash.), the HASC chairman, has said he supports the $715 billion budget request and believes the committee should instead spend its time figuring out how that money is best spent rather than debating the topline figure.
"I think the [topline budget] number they sent us is absolutely right. It's very well thought out. They've got a great plan and a great strategy. And if we, in Congress, waste an enormous amount of time fighting over whether or not we've got to add a few more dollars or cut a few more dollars, we're really missing the boat," Smith has said previously (Defense Daily, April 22).