The chairman of the House Armed Services Committee on Thursday once again urged the White House to deliver its budget by mid-May, adding he doubts Congress will suspend its August recess in order to get a delayed appropriations process completed by the end of the fiscal year.
"If we don't get the budget by a certain timeframe we can't mark up the appropriations bills and the defense [policy] bill. If we slip past the middle of May, my staff tells me we will not be able to do any of those things before August. I don't know, maybe we cancel the August recess and spend August doing appropriations bills. I'd be surprised. So, we're into September, post-Labor Day," Rep. Adam Smith (D-Wash.) said during an American Enterprise Institute discussion.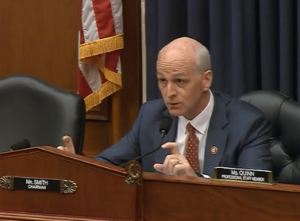 Smith last week said he was "deeply concerned" that the Biden administration was "dragging their feet" on getting its budget request submitted, adding that any further delay beyond May 10 would almost certainly lead to starting the next fiscal year under a continuing resolution (Defense Daily, April 13).
"The budget [request] doesn't have to be perfect. In the history of Congress, I don't think we've ever had a situation where Congress has simply taken the president's budget and said 'oh, we're good,'" Smith said Thursday. "We will make changes, so if there's something in there that you don't like that isn't exactly the way you want it there's time to fix it. There is not time to get through the legislative process if we don't get this thing before May 10."
The White House did release FY '22 topline budget numbers earlier this month, which included a slightly increased Pentagon budget request of $715 billion, but no details yet on specific funding items (Defense Daily, April 9).
"I think the [topline budget] number they sent us is absolutely right. It's very well thought out. They've got a great plan and a great strategy. And if we, in Congress, waste an enormous amount of time fighting over whether or not we've got to add a few more dollars or cut a few more dollars, we're really missing the boat. That's the money, let's go figure out how we can spend it in the best, most cost-effective way possible," Smith said.
Smith also said he doesn't see there being a significant amount of short-term savings in the wake of the decision to withdraw troops from Afghanistan, while adding if the plan is followed through there will be added budget flexibility over the next several years.
"In the short term, I'm not banking on the savings in the sense of [like] I've got a $10,000 vacation planned [and now] I'm not going so now I clearly have $10,000 in my bank account and I can go do something else," Smith said. "But, it is logical to assume if we don't have that specific $15 billion expense on a year-in and year-out basis then that is going to give us greater flexibility, certainly over a five year period."