The chair of the House Armed Services Committee said Wednesday he is "unconvinced" on pursuing a deep cut to the defense budget, adding he could see a likely reduction of $10 to 20 billion in the coming years rather than a 10 to 20 percent overall cut.
Rep. Adam Smith (D-Wash.) also told reporters he still has reservations over meeting the Pentagon's calls for billions of dollars to cover industry's COVID-related claims, adding he has concerns the money would mostly go to the largest defense contractors.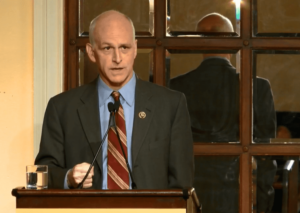 "If you're asking me will I commit to a 10 percent or a 20 percent cut in the defense budget, no I will not. Will I say categorically that's impossible and that will be a disaster, no I won't say that either," Smith said. "I'm unconvinced at the moment. I'm unconvinced that our national security policy would be what it needs to be if we cut the defense budget by 10 or 20 percent. But I am wide open to the conversation, and the debate and the discussion."
Smith reiterated previous comments that he sees "a big fight coming" among Democrats over defense spending levels if Vice President Joe Biden wins the presidency and the party takes control over the Senate, with progressive members looking to continue a push for a significant cut to the Pentagon's budget.
While he did not close the door on future cuts, Smith said he needs to see a defense policy rationale to back a large reduction, rather than a call for moving that money elsewhere, as well as pushing back on Republicans comments that spending any less money would result in "unilateral disarmament."
"The argument that you build more for the sake of building more doesn't make sense. On the other side, the progressive side, if you say you want to cut the defense budget on general principle then I'm going to have a problem with that. There has to be a national security strategy behind those cuts," Smith said.
For the time being, Smith said his outlook is that the budget will remain flat in the near future, "somewhere in the $720 [billion} to $740 [billion] range going forward."
Smith also said his concerns over the Pentagon's call for funds in the "low double digit billions of dollars" to cover industry's COVID claims focuses on how the money will be used to support the department's small and medium-sized manufacturers and ensuring the support goes only to those companies that need the most help.
"If we put that money in there will it get out to the people who need it? Or will it simply be used to drive up the share price of some of the larger defense contractors," Smith said. "From previous experience, I'm deeply worried that larger contractors who don't really need the money will find a way to gobble it up in a way that's not actually useful, in terms of spending."
The Pentagon has previously called for the billions of dollars in reimbursement funds to be appropriated in the next pandemic relief package.
"I know that in the first billion dollars we gave them [in the CARES Act], they spent about $680 million on this industrial base stuff. I haven't seen that evidence yet of exactly how that's working," Smith said.