The top Republican on the House Armed Services Committee (HASC) said Monday he won't support the next defense budget if it doesn't include three to five percent topline spending growth, adding he believes the committee has the votes to block proposed cuts to several nuclear modernization efforts.
"That is my number one, number two and number three priority," Rep. Mike Rogers (R-Ala.), the HASC ranking member, told reporters of his push for growing the defense spending topline. "We're going to have to increase defense spending to keep up with the pace from China."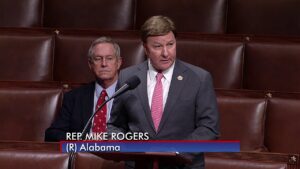 Rogers' remarks arrive as there's an increasing likelihood the Pentagon will have flat or slightly declining spending in the coming years, and as progressive lawmakers have renewed their call for an overall 10 percent cut to the department's budget.
"This is not something we cooked up in policymaker meetings. This is what [DoD leadership] is telling us they need. People have to realize and keep in mind that we have worn our equipment out, we have worn our manpower out over the last two decades. We don't have time to defer these investments any further," Rogers said. "I want to cut spending as much as anybody does, but I also don't want to be dead."
Rep. Adam Smith (D-Wash.), the HASC chairman, told reporters recently he's frustrated with lawmakers focusing the defense spending discussion on a push for three to five percent budget growth, which he called "substantively, the least important question we could talk about," adding the committee must focus on how the money is actually spent (Defense Daily, March 5).
On the Ground-Based Strategic Deterrent (GBSD) program, which is intended to replace the current Minuteman III Intercontinental Ballistic Missiles (ICBM), Rogers said he believes HASC will have enough bipartisan support to avoid any cuts to the program.
"The fact is we have to modernize with GBSD. That's just a fact. And [Defense] Secretary [Lloyd] Austin has committed to that. He's going to move forward with it. I think that's going to be his advice to the president. I know Adam is going to try kill it again this year. He's done that pretty much every year, as long as I can remember," Rogers said. "I know he won't have many votes on [the Republican] side and most of the Democrat members are going to be with us on this too. I have confidence that the GBSD is going to move forward with this modernization effort in a timely effort. I don't see this stopping."
Progressive lawmakers Rep. Ro Khanna (D-Calif.), a member of HASC, and Sen. Ed. Markey (D-Mass.) urged President Biden earlier this month to pause development of GBSD and divert the $100 billion in acquisition costs and estimated $260 billion in life-cycle costs to "higher priority needs" (Defense Daily, March 3).
Rogers said he anticipates there will be debate during this year's NDAA mark-up process on future plans for the new sea-launched cruise missile (N-SLCM) and its low-yield nuclear warhead but predicted it would ultimately be retained in the next defense authorization bill.
"We'll hold the line. I'm sure it will be a big debate. We've got some people, as long as there's TV cameras in the room, that's going to run their mouth. But I think we'll have the votes to sustain it," Rogers said.
Rep. Joe Courtney (D-Conn.), chair of the HASC Seapower Subcommittee, and Sen. Chris Van Hollen (D-Md.) introduced a bill recently to cancel development of the sea-launched cruise missile and low-yield nuclear warhead, calling the programs "redundant and expansive" and said it would unnecessarily divert funds that could be used for higher priority naval modernization efforts (Defense Daily, March 4).