Progressive lawmakers Sen. Ed Markey (D-Mass.) and Rep. Ro Khanna (D-Calif.) are urging President Biden to scale back nuclear modernization efforts, including pausing development of the Ground Based Strategic Deterrent (GBSD) program and canceling the new low-yield nuclear warhead effort.
In a letter sent Tuesday to Biden, Markey and Khanna raise concerns on the "unsustainable rate of spending" on nuclear modernization and ask for the upcoming fiscal year 2022 budget request and subsequent policy reviews to include several actions to reassess future plans.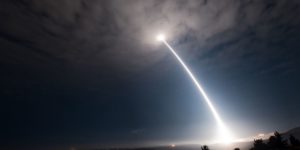 "The United States can retain a safe, secure, and effective nuclear deterrent which is also affordable and enhances our national security. In making necessary changes to the U.S. nuclear posture and force structure, your administration can best reflect the hard, cold reality that there is no such thing as a winnable nuclear war," Markey and Khanna wrote in their letter.
Markey and Khanna note nuclear modernization spending is expected to total $1.7 trillion through 2046, adjusted for inflation, including $500 billion between FY '19 and '28.
"The staggering growth of the modernization budget will force even harder tradeoffs amid flat — at best — discretionary defense budgets in future years," Markey and Khanna wrote. "Fortunately, the United States can deter adversaries and assure allies without expending the entirety of the nearly $2 trillion contemplated over the next three decades for the nuclear arsenal."
On GBSD, which is intended to replace the current Minuteman III Intercontinental Ballistic Missiles (ICBM), the lawmakers call on Biden to pause development and divert the $100 billion in acquisition costs and estimated $260 billion in life-cycle costs to "higher priority needs."
"We instead encourage you to pause funding for GBSD and look to the viable alternative of extending the existing Minuteman III ICBM until at least 2050, while freeing up tens of billions of dollars for other priorities," Markey and Khanna wrote.
GBSD, which is being built by Northrop Grumman [NOC], is set to begin flight testing in FY '24, with the Air Force planning to buy more than 650 missiles (Defense Daily, Feb. 23).
Sen. Jon Tester (D-Mont.), the Senate's new top defense appropriator, is a strong proponent of the GBSD program (Defense Daily, Feb. 12).
Markey and Khanna also call on Biden to stop development of two nuclear weapons programs started during the Trump administration, the low-yield W76-2 warhead and a proposed new sea-launched cruise missile (SLCM-N).
"The United States already fields a variety of lower-yield nuclear weapons, as well as conventional options that can achieve the same mission as that sought for new weapons. We urge a swift decision by your administration to withdraw the low-yield W76-2 warhead from deployment and cancel the SLCM-N," the lawmakers wrote.
Rep. Adam Smith (D-Wash.), chair of the House Armed Services Committee, told reporters recently he expects nuclear modernization plans to continue course and noted the low-yield warhead program appears to still have bipartisan support (Defense Daily, Dec. 7).