A group of Democratic lawmakers are calling on President Biden to use the imminent Nuclear Posture Review as an opportunity to cut two nuclear modernization programs approved during the Trump administration, the deployment of the new W76-2 low-yield, submarine-launched warhead and development of a nuclear sea-launched cruise missile.
Sens. Ed Markey (D-Mass.) and Jeff Merkley (D-Ore.), and Reps. John Garamendi (D-Calif.) and Don Beyer (D-Va.), co-chairs of the Nuclear Weapons and Arms Control Working Group, led a letter sent to Biden
on Wednesday urging him to use the NPR "to question the necessity of new nuclear weapons systems and the sustainability of the current expansive program of work."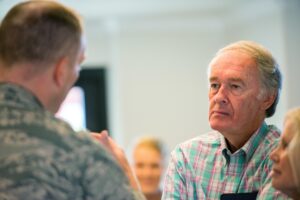 "It is your best chance to take bold steps that reduce our reliance on nuclear weapons, elevate arms control, and retire President Trump's new, unnecessary warfighting nuclear weapons," the lawmakers wrote. "Your forthcoming NPR should reflect your Administration's views, not embrace President Trump's nuclear weapons programs. The Trump administration never fully justified their mission. And their development will defy the repeated recommendations of the Government Accountability Office to consider deferring the start of or canceling those programs."
The lawmakers add that canceling the W76-2 low-yield warhead and sea-launched cruise missile programs would "further signal that the United States believes that deterrence, not warfighting, is the sole purpose of nuclear weapons."
The top Republicans on the Senate and House Armed Services Committees urged Biden two weeks ago to resist calls to cut those programs, adding they have received "overwhelming bipartisan majority" support and were included in the recently passed fiscal year 2022 National Defense Authorization Act (Defense Daily, Jan. 13). 
The Republican lawmakers were responding to a report that the Biden administration was considering such cuts, while the Democrats in their letter on Wednesday voiced their concern that the upcoming NPR may not differ substantially from the Trump White House's strategy released in 2018.
"A status quo posture that does not measurably reduce the 'role of nuclear weapons in national security strategy'— as your Interim National Defense Strategy calls for– threatens to throw into overdrive the Cold War arms race action-reaction cycle, with Russia and China likely to race to deploy new offensive and defensive capabilities to counter any perceived U.S. nuclear advantage. A clean break with President Trump's policies can send a strong signal to Russia and China that the United States believes restraint and nuclear arms reduction are measures of a country's great power status, not nuclear weapons overkill," the Democratic lawmakers wrote. 
Markey, Merkley, Garamendi and Beyer were joined by 51 other lawmakers in signing the letter to Biden.