Ret. Gen. Lloyd Austin, president-elect Biden's nominee for defense secretary, provided insight into his outlook on on the budget, nuclear modernization and Navy shipbuilding plans during his Tuesday confirmation hearing, while also detailing steps to ensure enduring civilian control of the military, as several lawmakers have raised concerns over granting a waiver to allow another recently retired general to lead the department. 
The House is now planning to vote on a waiver this Thursday, following the House Armed Services Committee's decision to scrap a planned hearing with Austin that was likely to take place the same day.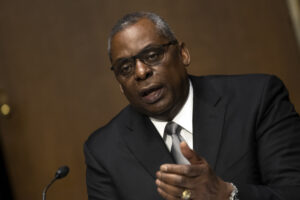 "It has become clear that full committee membership will not be finalized before Thursday's scheduled hearing to discuss civilian control of the military with the Secretary-designate Lloyd Austin. As such, we cannot yet convene our committee organization meeting or formally conduct committee business like a hearing. Once members have been named and the committee has been organized, we will proceed," Monica Matoush, a HASC spokeswoman told Defense Daily.
Both the House and Senate would have to vote to grant a waiver for Austin to serve as defense secretary because he has not been out of the military for the required seven years.
Austin's testimony before the Senate Armed Services Committee arrives as several Democrats on the panel have signaled that they're unlikely to vote in favor of granting a waiver, citing concerns the nomination could work to further erode the norm of civilian control of the military (Defense Daily, Jan. 12). 
"Let me say at the outset that I understand and respect the reservations that some of you have expressed about having another recently retired general at the head of the Department of Defense. The safety and security of our democracy demands competent civilian control of our armed forces, the subordination of military power to the civil," Austin told the panel on Tuesday. "I intend to surround myself and empower experienced, capable civilian leaders who will enable healthy civil-military relations grounded in meaningful oversight."
Austin said he would work quickly to fill senior civilian positions at the department, many of which had acting officials serving in those roles for long stretches during the Trump administration, and promised to rebalance the workload and coordination between the Joint Staff and the Office of the Secretary of Defense staff to "ensure that civilian input is integrated at every level of the process."
In addition, Austin told lawmakers he would work "hand-in-glove" with the State Department and plans to include the Under Secretary of Defense for Policy in top decision making meetings "ensuring strategic and operational decisions are informed by policy."
Sen. James Inhofe (R-Okla.), the top Republican on SASC, asked Austin if he agreed with the recent Pentagon leaders calling for three to five annual budget growth to ensure full funding for modernization initiatives.
While he didn't offer a percentage number or a specific agreement on the statement, Austin said he believes "that our resources need to match our strategy and our strategy needs to match our policy."
"I would assume that would be yes," Inhofe said in response.
Austin was also pressed on his view toward nuclear modernization, and said he agreed that "nuclear deterrence is DoD's highest priority."
"I believe that the [nuclear] triad has served us well in the past and I certainly believe it will continue to do so going forward. And I personally support the triad," Austin said. 
Sen. Roger Wicker (R-Miss.) pressed Austin for his views on the Navy's new 30-year shipbuilding plan and if he supports a requirement for 405 manned ships by the year 2051.
Austin noted he has not yet read the Navy's new shipbuilding plan but was familiar with the push to boost the number of ships in the fleet, adding he'll work with the Navy leadership to understand what's needed to meet their requirements.
"Our Navy is the most capable naval force on the face of the planet. It will remain so if I'm confirmed and become secretary of defense. I think it's important that we maintain capabilities that will need to be relevant not only today but relevant tomorrow," Austin said. "I certainly say we need to have the right kinds of capability to be able to counter the emerging threats. And, again, I look forward to having that conversation with the Department of the Navy"
Austin also said the Pentagon must continue to reform its acquisition process "to be more agile and more responsive" as it looks to more rapidly integrate and then field industry's latest technologies.