The U.S. and U.K. defense chiefs signed a joint declaration agreement allowing U.S. Navy and Marine Corps personnel to deploy in a joint UK-U.S. combined carrier strike group led by the new HMS Queen Elizabeth aircraft carrier.
The British carrier is set for its first deployment this spring and the new joint declaration will allow the inclusion of a detachment of Marine Lockheed Martin [LMT] F-35B aircraft and the Navy's USS The Sullivans (DDG-68) in the carrier strike group, the U.S. Navy said Tuesday.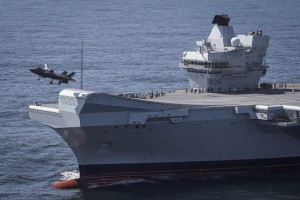 The U.S. F-35Bs will help fill in the air wing until the U.K. readies more squadrons.
The agreement was signed by U.S. Acting Secretary of Defense Christopher Miller and U.K. Defense Minister Ben Wallace.
"This deployment underscores the strength of our bilateral ties and demonstrates U.S.-U.K. interoperability, both of which are key tenets of the U.S. National Defense Strategy," the Navy said in a statement.
"I am delighted that the U.K. now possesses a 21st century Carrier Strike capability, which has been greatly assisted by the unswerving support and cooperation of the United States at all levels over the past decade," Wallace said in a separate statement.
"This deployment embodies the strength of our bilateral ties and reflects the depth and breadth of this vital defense and security partnership," he added.
Earlier this month, the U.K. Royal Navy announced its carrier strike group formed around the Queen Elizabeth achieved Initial Operating Capability (Defense Daily, Jan. 4).
The carrier strike group is expected to reach full operating capability by December 2023.
In October the U.S. and U.K. Navy service chiefs agreed to a Statement of Intent, working to move from interoperability to interchangeable forces and capabilities (Defense Daily, Oct. 22, 2020).
The Queen Elizabeth and its sister ship, the HMS prince of Wales are built by a team of BAE Systems, Thales, Babcock, and the Defense Ministry.