The U.K. Royal Navy announced Monday its carrier strike group (CSG) achieved Initial Operating Capability (IOC) ahead of its maiden deployment later in 2021.
The Royal Navy said the IOC marks all elements of the group have been successfully brought together and operated, including fighter jets, radar systems and anti-ship weapons.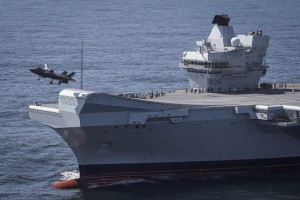 The CSG is focused around the HMS Queen Elizabeth, the first of two new U.K. aircraft carriers that will be equipped with Lockheed Martin [LMT] F-35Bs.
The government said naval and air elements met the IOC milestone, which covers having qualified pilots and ground crews held at short notice for carrier-based operations and trained to handle weapons and maintain equipment.
The IOC also marks the ability to deploy frigates and destroyers for anti-submarine warfare as well as fixed and rotary wing aircraft all along the new aircraft carrier.
"This is a hugely significant milestone for HMS Queen Elizabeth, the Royal Navy and the whole country. This achievement is a testament to the determination of our service personnel and industry workforce who have delivered this first-rate military capability, a capability held by only a handful of nations. I wish the entire Carrier Strike Group well ahead of their first operational deployment this year," U.K. Defence Minister Jeremy Quin said in a statement.
The CSG aims to begin a global deployment this spring while the group is expected to reach full operating capability by December 2023.
The Royal Navy has not had a CSG since it retired the Invincible-class light carrier HMS Ark Royal in 2011 when all Harrier aircraft were retired. Sister ship HMS Illustrious then served in a helicopter carrier role until 2014.
The Queen Elizabeth and its sister ship, the HMS Prince of Wales, are built by the Aircraft Carrier Alliance team of BAE Systems, Thales, Babcock, and the U.K. Defense Ministry.