The Navy released the request for proposals (RFP) for the design, development and fabrication of the Snakehead Large Displacement Unmanned Undersea Vehicle (LDUUV) on Dec. 23.
The service said it plans to competitively award a contract to a single contractor to build two prototype Snakehead vehicles in fiscal year 2021, with proposals expected early this year.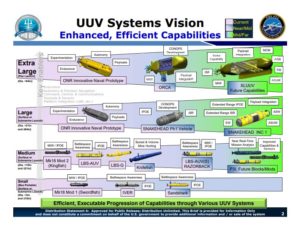 The Snakehead LDUUV is an accelerated acquisition program that aims to be deployed from ports as well as platforms like Virginia-class attack submarines and Littoral Combat Ships. The Navy expects it to provide intelligence, surveillance and reconnaissance as well as anti-submarine capabilities.
The Snakehead is intended to be a long-endurance multi-mission UUV that is able to deploy with reconfigurable payloads and be the largest UUV intended to be deployable from submarines.
The vessel is managed under Naval Sea Systems Command's (NAVSEA) Program Executive Office Unmanned and Small Combatants (USC).
In a statement released concurrently with the RFP, the Navy said the LDUUV "will achieve full integration with Modernized Dry Deck Shelter and Payload Handling System-equipped submarines. Initial vehicles will be designed to support Intelligence Preparation of the Operating Environment (IPOE) missions. Future vehicle missions may include deployment of various payloads."
NAVSEA previously hosted virtual industry days for the LDUUV program on June 16-17, first announced in May (Defense Daily, May 22, 2020).
The service noted in the statement over 50 companies participated in the industry days via teleconference, with feedback incorporated into a draft RFP released Oct. 29. Further industry feedback was then considered to inform this final RFP.
The Navy's FY 2021 budget request documents previously explained Snakehead will have a phased approach with Phase 1 consisting of a government-developed prototype with industry involvement to develop Techniques, Tactics and Procedures, concepts of operation and risk reductions for submarine integration. The Phase 1 vehicle will be built for integration onto the Dry Deck Shelter equipped submarines with testing planned for FY '21.
The second phase is then a competitive award to industry with increased capabilities. The single vendor design award is expected to include options to fabricate up to four vehicles starting in FY '23.