The Navy said it plans to host virtual industry days on June 16-17 to brief industry on the Large Displacement Unmanned Undersea Vehicle (LDUUV) program.
A May 21 notice to beta.sma.gov explained the government aims to use the industry days  to help improve companies' understanding of how the LDUUV program fits in with the Undersea Warfare Directorate's plan for unmanned undersea vessels.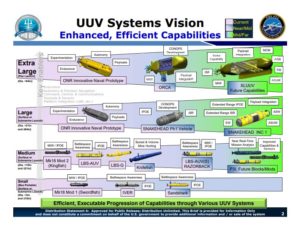 "The objective of this event is to provide Government information and solicit industry feedback to accelerate the development and procurement of future LDUUVS," the notice said.
The industry day will have an overview of the Navy's family of UUVs; LDUUV program vision and objectives; program schedule; the contracting, competition, and business strategy; the engineering / technical requirements and objectives; as well as the Unmanned Maritime Autonomy Architecture (UMAA), the Payload Handling System (PHS), the Modified Dry Deck Shelter (Mod-DDS) and the Common Control System (CCS).
The Navy said it is making draft LDUUV solicitation documents available to approved contractors and will seek feedback on them during the industry days.
The notice underscored while the event will be at the unclassified level, details of joining and program overview presentation will only be provided to pre-registered and confirmed companies.
The first half of June 16 will consist of the government presenting LDUUV information related to the solicitation via teleconference. The second half of June 16 and all of June 17 will be for one-on-one virtual engagement sessions.
The registration deadline in June 9.
The Navy is developing the Snakehead LDUUV, an accelerated acquisition program being designed to provide intelligence, surveillance and reconnaissance (ISR) and anti-submarine capabilities. The service aims for it to be deployed from ports and platforms like Littoral Combat Ships and Virginia-class attack submarines.
According to FY 2021 budget request documents, the Snakehead program is operating under the Family of UUVs concept and will design and build a modular, reconfigurable UUV with open architecture software focused on introducing a new class of LDUUVs. The program has a phased approach with Phase 1 consisting of a government-developed prototype with industry involvement to develop Techniques, Tactics, and Procedures (TTPs), Concepts of Operation (CONOPS), and risk reductions for submarine integration.
"One Phase 1 vehicle, with sufficient test spares, will be fabricated for integration onto Dry Deck Shelter (DDS) equipped submarines with testing commencing in FY '21. The next phase will be a competitive award to Industry, with increased capabilities and integration onto Modernized DDS and Payload Handling System (PHS) equipped submarines, as well as potential integration onto surface ships," the Navy's recent budget documents said.
The documents further said the required technical data package and contracting documents are to be compiled in FY '19 and '20, "culminating with a competitive Request for Proposals (RFP) release in FY '20. An award to industry will occur in FY '21, five years earlier than originally planned, for a single vendor design with options to fabricate up to four vehicles starting in FY '23, including opportunity to leverage Commercial Off-the-Shelf (COTS) vehicles for unique mission capabilities."