The future Independence-variant Littoral Combat Ship USS Oakland (LCS-24) completed acceptance trials in Mobile, Ala., on Friday.
Naval Sea Systems Command noted during the trials the service tested various ship systems at pier side and at-sea in the Gulf of Mexico. This included testing main propulsion, auxiliaries and electrical systems. The Navy also conducted critical capability tests including a full-power demonstration, steering and quick reversal, anchor drop, and combat systems detect-to-engage sequence.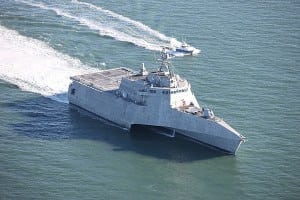 "I am impressed with the positive results achieved by the Navy and industry team during this acceptance trial of the future USS Oakland, We continue to see improvements in this class as we work to provide cost-effective warfighting capability to the fleet and the nation," LCS Program Manager Capt. Mike Taylor said in a statement.
After delivery and ship commissioning, the Navy intends to sail the Oakland to its homeport in San Diego with its sister ships USS Independence (LCS-2), Coronado (LCS-4), Jackson (LCS-6), Montgomery (LC- 8), Gabrielle Giffords (LCS-10), Omaha (LCS-12), Manchester (LCS-14), Tulsa (LCS-16), Charleston (LCS-18), Cincinnati (LCS-20) and Kansas City (LCS-22).
LCS-24, like other Independence-variant ships, is built by Austal USA at its shipyard in Mobile.
The Navy noted four other Independence-variant LCSs are under construction at the shipyard: the future USS Mobile (LCS-26) is undergoing final assembly, modules for the future USS Savannah (LCS-28) and Canberra (LCS-30) are being erected, and modules for the Santa Barbara (LCS-32) are being fabricated. The company is also preparing to build the future USS Augusta (LCS-34), Kingsville (LCS-36), and Pierre (LCS-38).
The company first launched LCS-24 last July. It is the 12th of 19 total planned Independence-variant LCS set to join the fleet (Defense Daily, July 26, 2019).