The Navy released the Request For Proposals (RFP) for the Medium Unmanned Underwater Vehicle (MUUV) on May 21.
According to a May 22 Naval Sea Systems Command (NAVSEA) statement, this RFP covers the design, development, test and production of the MUUV.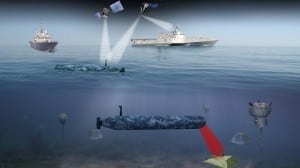 The Navy plans for the MUUV to be modular with plug-in capabilities and payloads for different mission and feature open systems and open architecture. It also expects the vessel to be deployable from both various vessels and ashore while operating in two configurations for the separate launch and mission types.
NAVSEA said the notional MUUV will have a common baseline vehicle architecture, covering sensors and components, for both submarine and expeditionary configurations. "Launch-and-recovery systems will reflect each configuration's unique requirements and missions."
In the Razorback Torpedo Tube Launch and Recovery (TTL&R) configuration, "it will provide submarine-based autonomous oceanographic sensing and data collection in support of intelligence preparation of the operational environment," the Navy said.
Then, in the Maritime Expeditionary Mine Countermeasures UUV (MEMUUV) configuration, "it will provide persistent surface-launched and recovered mine countermeasures (MMC)."
NAVSEA noted only the TTL&R variant is included in the current solicitation.
The Razorback TTL&R is derived from the Navy's submarine-launched Littoral Battlespace Sensing Autonomous Undersea Vehicle effort, which has two deployment configurations: Deck Shelter and TTL&R.
Separately, the Navy plans for the MEMUUV to be launched from Navy and Marine Corps surface vessels, vessels of opportunity, or land-based forward operating bases.
Last October, a Navy official explained the MUUV will consist of one vehicle variant deployed from a submarine, the Razorback, and another from surface vessels, the Mk 18. The Navy has been working on the Razorback for sensing capabilities and the MK 18 for mine warfare countermeasures missions.
At the time, Howard Berkof, deputy Program Manager of Unmanned Maritime Systems program office (PMS 406), explained the Razorback would be launched from torpedo tubes but the service and industry are working on the harder problem of submarine recovery (Defense Daily, Oct. 24, 2019).
Last September, the Navy first posted a presolicitation notice outlining the MUUV plans and intent to award multiple contracts following a final RFP in 2020 (Defense Daily, Sept. 12, 2019).
The MUUV effort is a collaboration between the Unmanned Maritime Systems Program Office (PMS 406) in Program Executive Office Unmanned and Small Combatants (PEO USC) and the Expeditionary Missions Program Office (PMS 408). The latter operates directly under NAVSEA.
In October, Berkof noted Program Executive Office Submarines is also helping with the effort, particularly to integrate a Razorback with submarines.