The Navy's top unmanned systems official emphasized this week the service is testing different acquisition strategies while it looks to take various autonomy pieces for a larger library and not be locked into a single vendor.
While the Navy started acquiring unmanned surface vessels (USVs) and unmanned undersea vessels (UUVs) as prototypes that came with a particular vendor's autonomy system or control system, it is now moving towards the new unmanned campaign plan framework. That means disaggregating common problems, solving once, scaling solutions, and use a capabilities-centric approach, Rear Adm. Casey Moton, head of Program Executive Office Unmanned and Small Combatants said during a virtual AUVSI Unmanned Systems Defense event April 13.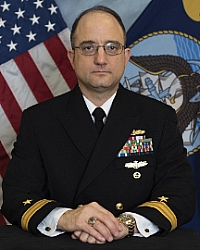 From the acquisition perspective, "we are not interested in vendor lock at this point. It's too early, we're not going to pick company X and say congratulations you are now our USV autonomy company for the next 30 years…We're not interested in doing that," he said.
The Navy and Marine Corps released an unclassified version of the Unmanned Campaign Plan framework in March, aiming to develop capabilities across unmanned platforms and share systems when possible (Defense Daily, March 17).
Moton underscored his office is trying to take a measured approach to meet the framework goals.
While caveating he is not trying to set the acquisition strategy publicly yet, Moton explained some things he is thinking about and what he tells his team and program offices on unmanned acquisition.
"I tell my program offices – 'Hey, I want us to use the prototypes not only to do technology prototyping, but I actually consider that we're prototyping acquisition strategies right now…we are doing different acquisition strategies and we're going to see how that goes.'"
Moton did not confirm there will definitively be a government furnished autonomy system for the Navy unmanned systems but admitted "we're still working that out, but you can see in our actions probably where we want to go, right?"
However, he also said the Navy does not want to "just lock this into a government lab for the next five to 10 years or longer and just kind of figure this out on our own and throw it over the wall to industry."
Moton said his office is trying to set up to be able to take the best pieces of autonomy wherever they come from and then the Unmanned Maritime Autonomy Architecture (UMAA) sets the open standards between different pieces and combine the work with the Rapid Autonomy Integration Lab (RAIL). RAIL aims to help test and integrate new and updated autonomy capabilities for USVs and UUVs.
The Navy unveiled the RAIL prototyping effort, led by Capt. Pete Small, program manager of the Unmanned Maritime Systems Office (PMS-406) last September (Defense Daily, Sept. 8, 2019).
In contrast, UMAA seeks to standardize autonomy interfaces, enabling commonality and reducing acquisition costs across USVs and UUVs.
Moton explained the idea is to have an autonomy lab with pieces designed from the beginning so that "once we find a piece of autonomy that works, 'Okay – you're now in the autonomy library.'"
"At the same time, pick whether it's a small business or whether it's a large business or whether its ONR and one of their [Small Business Innovation Research] providers that comes in with another piece of autonomy and we now want that to work together. We want to kind of build that autonomy library so that we're able to pick and choose the components so we're kind of in control and not just turning it over to a single vendor," he continued.
Moton also reiterated his statements are not meant to be anything indicative of a specific acquisition strategy document "signed and blessed," but these factors are in mind as this office works on the prototyping and " I think in a lot of our actions you can see that and the government having to take a role to sort of be able to take these individual pieces."