The Army's Requirement Oversights Council (AROC) has signed off on the requirements for the service's Future Attack Reconnaissance Aircraft (FARA) program, while it still waits to receive approval for the final acquisition strategy.
"The AROC approved the Abbreviated Capabilities Development Document (A-CDD) and codified the first weapons system requirements which enables the program manager to flow a weapons system specification," a Program Executive Office (PEO) Aviation spokesperson told Defense Daily
.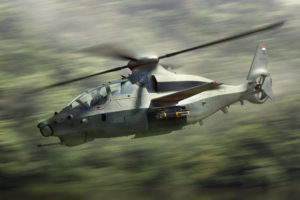 The AROC's meeting on April 9 to approve the A-CDD was first reported by Defense News.
The PEO Aviation spokesperson noted while the final acquisition strategy has not been approved, the validation of Final Design and Risk Reviews in December for the two offerings in the competitive prototyping phase sets the path for first prototype test flights in late 2022.
Last March, the Army selected Bell's [TXT] 360 Invictus and Sikorsky's [LMT] Raider X designs to move onto the FARA competitive prototyping phase (Defense Daily, March 17 2020). 
Maj. Gen. Walter Rugen, director of the Future Vertical Lift Cross Functional Team, has called FARA, which will serve as the future "knife fighter" helicopter to fill the gap left by retiring the OH-58D Kiowa Warrior, a "number one [capability] gap."
Rugen recently said he does not believe the Army will have an issue affording development of both FARA and the Black Hawk-replacing Future Long Range Assault Aircraft, citing critical lessons learned with the failed Comanche helicopter program (Defense Daily, March 17).