The Army's former top acquisition official on Wednesday said she is concerned if the service will have adequate funding to move its full portfolio of weapon systems modernization programs from rapid prototyping to procurement, with the service facing likely declining budgets and several overlapping procurement milestones. 
Heidi Shyu, who served as Assistant Secretary of the Army for Acquisition, Logistics, and Technology (ASA ALT) from 2011 to 2016, told attendees at an Association of the United States Army event that the Army should take a more cautious approach with awarding prototype agreements without ensuring a plan is in place to guarantee the manufacturability and sustainability of future platforms.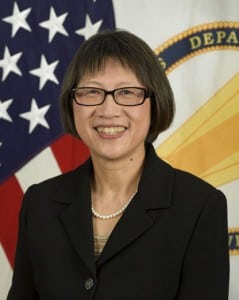 "My biggest concern is that when the budget goes down, that's only a matter of time, that we're left with a bunch of prototypes but nothing in inventory and that we have a bunch of legacy systems without upgrades," Shyu said. "And two, when the prototypes finally turn into production-ready weapon systems, how can the Army afford so many big ticket procurement bills simultaneously."
The Army's modernization push is focused around 31 signature programs across six priorities and looks to build everything from Future Vertical Lift platforms, to the Bradley-replacing Optionally Manned Fighting Vehicle and new suite of Long-Range Precision Fires capabilities.
Contracts for prototypes are in place for several programs, with many test systems set to roll out around 2023, while fielding for major systems will start around 2026.
"All of them kind of mature around the same time, and the Army's not going to get the entire DoD budget, there's no way. Therefore, some of the priorities are going to fall off the table because you have no procurement money," Shyu said. "It comes down to what is most important to the Army at that time when you've built the prototype and demonstrated some of the capabilities. You've got to prioritize your top 31 choices, because you can't have them all."
Shyu specifically noted the increased use of Other Transaction Authority agreements to get rapidly award prototype deals, and said the Army must place as much emphasis on ensuring test systems will result in actual programs of record.
"Building a prototype is the easy part. The hard part is to design a high-performance weapon system that is reliable, easily manufacturable, maintainable, repairable and sustainable, all at an affordable cost. Just demonstrating a prototype does not imply it is production-ready," Shyu said. "I would encourage the Army to think about the linkage and the plan for the smooth transition from rapid prototyping to a program of record. If you want to accelerate schedule you need to understand the trade-offs."
Shyu said she would also like to see the Army address the growing number of obsolescent parts, prioritization of cyber assurance and an increased emphasis on software certification.
The former ASA ALT also called on the Army to further explore additive manufacturing and 3D printing opportunities to solve future sustainment and logistics challenges. 
"We have a tremendous opportunity to rethink sustainment and logistics, in light of rapidly advancing additive manufacturing capabilities. It should dramatically reduce our parts warehouse footprint as well as our sustainment and logistics costs," Shyu said. "We need to flip the paradigm that design is 30 percent of the cost and sustainment is 70 percent of the cost."