The final fiscal year 2022 defense spending bill places nearly $350 million for the Army's procurement of the new Integrated Visual Augmentation System (IVAS) headset "on hold" until the completion of initial operational test and evaluation and after officials brief Congress on the program.
Lawmakers have also moved $55 million from the night vision device procurement account to the Army's research and development account to continue IVAS refinement due to "recent developmental challenges and increased testing requirements," according to the bill.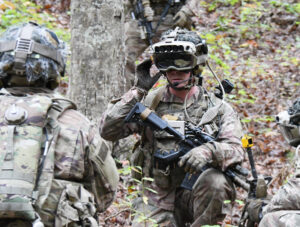 "The Program Executive Officer, Soldier, not later than 30 days after the enactment of this act, is directed to submit a revised IVAS development plan, including the associated resourcing requirements, to the House and Senate Appropriations Committees," lawmakers wrote in an explanatory statement accompanying the bill.
Congress passed the $1.5 trillion FY '22 omnibus spending package on March 11, which included $782 billion for defense-related programs (Defense Daily, March 11).
The bill includes $667.4 million for the Army's night vision device procurement account, which covers IVAS, down from $1.1 billion in the president's budget request.
The final figure accounts for a $393.7 million reduction in IVAS procurement, citing the original request as "ahead of need."
Lawmakers did appropriate $405.1 million "to maintain contractual production requirements for IVAS," according to the bill.
Last March, the Army awarded Microsoft [MSFT] a deal worth up to $21.9 billion over the next 10 years to move the IVAS program from rapid prototyping into production (Defense Daily, March 31 2021).
However, the Army decided in October to delay the operational evaluation for IVAS to this May and push the first unit equipped date to September, with officials acknowledging an issue with the system's waveguide technology was causing resolution issues (Defense Daily, Oct. 14).
Doug Bush, the Army's acquisition executive, told reporters last month it's unlikely the service will spend the maximum $22 billion allowed under its current production contract for IVAS (Defense Daily, Feb. 18).
"I don't think we're going to spend that much. So understand, that contract is an IDIQ contract. That's the ceiling, that's if we hypothetically got everything that was allowed in the contract. But that contract is actually quite sophisticated in that it gives us points along the way where we can adjust what we're buying in cooperation with the vendor," Bush said at the time. "There is no plan to buy $22 billion of the version that's being tested right now."