The final $1.5 trillion fiscal year 2022 spending package, with $782 billion for defense-related programs, is headed to the president's desk for final signature after the Senate approved the legislation on Thursday evening.
The Senate voted 68-31 to pass the 12-bill omnibus, which includes billions of dollars in increases for defense over the president's budget request, with the House having approved the measure on Wednesday evening with a bipartisan vote.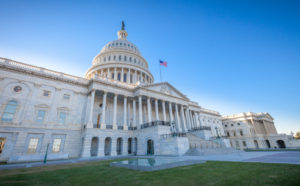 All '31' No votes in the Senate against the legislation were cast by Republicans.
The FY '22 spending package includes $728.5 billion for Pentagon discretionary spending, covering $12.4 billion in procurement increases for aircraft, shipbuilding and combat vehicle programs, as well as $13.6 billion for emergency funding to support Ukraine (Defense Daily, March 9).
A bipartisan appropriations deal had been delayed with GOP lawmakers calling for parity between defense and nondefense spending increases, with the final budget deal including a 5.6 percent increase for defense spending and a 6.7 percent increase for non-defense items.
"Just like the NDAA, this isn't the bill Republicans would have written on our own, but it's not hard to imagine how much worse things could have looked for our military. This increase of $29 billion is infinitely preferable to a full-year continuing resolution or the Biden budget for the military. Every senior military leader I've spoken to has emphasized that fact. It will keep us from falling even further behind China and we will make significant progress in some areas because of it," Sen. Jim Inhofe (R-Okla.), chair of the Senate Armed Services Committee, said in a statement ahead of Thursday's vote.
The final $728.5 billion figure for the Pentagon is a $32.5 billion increase over the FY '21 enacted level, and includes $144.9 billion for procurement and $119.2 billion for research and development efforts.
The defense spending bill includes increases to the Navy's shipbuilding account covering procurement of 13 new ships, adds 20 more C-130J aircraft than was requested and boosts the Army's investment in Stryker and Abrams upgrades by more than $300 million.
The final legislation removes the Air Force's $161 million request to buy the first 12 Lockheed Martin [LMT] AGM-183A Air-Launched Rapid Response Weapon (ARRW) and redirects $80 million of that funding to the Air Force research and development account to remedy an ARRW "testing shortfall" (Defense Daily, March 10).
For the Department of Homeland Security's portion of the omnibus package, the Cybersecurity and Infrastructure Security Agency (CISA) receives $2.6 billion in FY '22, $460 million more than the Biden administration requested and nearly $570 million more than appropriated in FY '21 (Defense Daily, March 9).