Lawmakers' final bipartisan $1.5 trillion fiscal year 2022 spending package includes $782 billion for defense-related programs, an increase of $42 billion over the FY '21 level, as well as a supplemental bill with $13.6 billion for emergency funding to support Ukraine.
The $728.5 billion in the bill for Pentagon discretionary spending represents a major boost over President Biden's $706 billion request, and includes $12.4 billion in procurement increases for aircraft, shipbuilding and combat vehicle programs.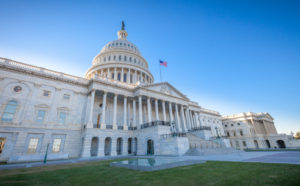 As of Defense Daily's deadline, the House is set to potentially take up the legislation Wednesday evening after debate around removing COVID-related aid from the spending package.
Sen. Jon Tester (D-Mont.), chair of the Senate Appropriations Defense Subcommittee, told the McAleese Conference in D.C. he was hopeful the Senate would then take up the spending package on Thursday. 
A bipartisan appropriations deal had been delayed with GOP lawmakers calling for parity between defense and nondefense spending increases, with the final budget deal including a 5.6 percent increase for defense spending and a 6.7 percent increase for non-defense items. 
The final $728.5 billion figure for the Pentagon is a $32.5 billion increase over the FY '21 enacted level, and includes $144.9 billion for procurement and $119.2 billion for research and development efforts.
"The $12.4 billion above the total funding request covers increased investments in ground vehicles, aircraft, ships, munitions, and other equipment," the House Appropriations Committee noted in a statement on the spending package. 
More specifically, lawmakers included $3.1 billion for 29 C/KC/MC-130J aircraft, 20 more than the request, added six more MQ-9 Reaper drones covering a total of 12 for $365 million, funded an additional two CH-53K helicopters for a total of 11 at $1.5 billion and included four additional V-22 aircraft for a total of 12 at $1.5 billion. 
The bill also fully funds the $8.5 billion request for 85 F-35 aircraft, $2.3 billion for 14 KC-46 tankers, $1.1 billion for 12 F-15EX aircraft and $977 million for 12 F/A-18E/F Super Hornet aircraft.
Lawmakers also funded the full second production lot for CH-47 Block Chinooks and provided $170 million for long-lead funding "to ensure that the Army stays on schedule with the program of record," lawmakers wrote in the bill.
For shipbuilding, lawmakers included $26.7 billion to procure 13 new Navy ships, which is a $4.1 billion increase covering five ships than was in the budget request.
"Funds are provided for two DDG-51 guided missile destroyers, two SSN-774 attack submarines, one Frigate, two TAO Fleet Oiler, two towing, salvage, and rescue ships, one T-AGOS(X) auxiliary general ocean surveillance ship, one expeditionary sea base, one expeditionary medical ship, and one expeditionary fast transport," lawmakers wrote.
Lawmakers have also added $139 million above the request for procurement of 41 more Stryker A1s, covering a total of 228 vehicles, as well as adding $175 million to upgrade a total of 90 Abrams tanks to the newest variant. 
The bill also fully funds several major weapon system research and development efforts including $2.1 billion for continued F-35 development and modernization, $2.9 billion for the B-21 bomber program, $1.5 billion for the Air Force's Next-Generation Air Dominance effort, $2.5 billion for the Ground-Based Strategic Deterrent program and nearly $600 million for the Long-Range Standoff Weapon.
Appropriators have also included $15 million above the budget request for the Army's Long Range Hypersonic Weapon and $77.5 billion in additional funds for the Future Long Range Assault Aircraft program. 
After the White House rolled out an $10 billion emergency funding request for Ukraine aid last week, the final version being considered along with the omnibus spending package covers $13.6 billion to support the country in light of Russia's ongoing invasion.
The Ukraine Supplemental Appropriations Act covers $6.5 billion for Department of Defense efforts, including $3 billion for "European Command operations mission support, the deployment of personnel to the region, and intelligence support" and $3.5 billion to replenish defense stocks for equipment provided to Ukraine.
The supplemental bill also includes $650 million for the State Department's Foreign Military Financing program "to provide additional support for Ukraine and countries affected by the situation in Ukraine, including NATO Eastern flank countries and other partners in the region, to build their capacity and deter further Russian aggression," according to the House Appropriations Committee.