Huntington Ingalls Industries [HII] recently said the United Steelworkers union members at Newport News Shipbuilding (NNS) approved a new labor contract to last through early 2027.
The union approved the contract 3,678 to 533 to ratify a new 60-month labor contract. It takes effect as of March 8 and will last through Feb. 7, 2027.
HII said the new contract includes general wage increases and bonuses, a freeze on employee health care premiums for three plan years, news medical benefits and additional annual leave.
The NNS shipyard builds Virginia-class nuclear-powered attack submarines with General Dynamics Electric Boat [GD], is working on the new Columbia-class ballistic missile submarine with GD as well, and exclusively builds the Navy's nuclear-powered aircraft carriers.
The company has been in collective bargaining with the United Steelworkers Local 8888 since September 2021 to replace the old contract that expired on Nov. 14. After an initial tentative agreement was reached with negotiators on Nov. 14, union members voted down the contract. The workers continued working under a contract extension in lieu of a new contract.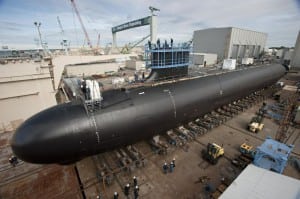 Negotiations then resumed in January and the negotiation team reached another tentative agreement as of Jan. 28, which has now been ratified.
The union said the new contract has over $22,000 in new payment based on a 40-hour work week, a first-time $2,000 essential pay bonus, a new domestic partner benefit, an additional eight hours of annual leave and a monthly increase to the pension payment to future retirees.
"We worked diligently with our union partners to reach a fair agreement, and are pleased that the new contract continues to provide the pay and benefits that our union employees expect," Susan Jacobs, Newport News' vice president of human resources and administration, said in a statement.
"This offer maintains our competitiveness in the shipbuilding industry and our flexibility to respond to our Navy customer's needs," Jacobs continued.
"Our members have spoken — decisively. They have ratified a contract that broke new ground and enhanced gains from previous negotiations. Now it's time to move this union forward, understanding that a good contract is no better than the members who know what it says and what it means," Local 8888 President Charles Spivey said in a separate statement,
"Our negotiations team, led by Deborah Moore, together with Fred Redmond, USW International vice president, Charles Spivey, Local 8888 president, and the union team of negotiators, are to be commended. They came through a challenging negotiation process and reached a new agreement that balances employee, company and union needs and expectations," Jennifer Boykin,  president  of Newport News Shipbuilding, said in another statement.
Redmond underscored the second vote used a mail-in ballot that more than doubled the number of members voting on the contract. 
"It engaged thousands more members and allowed their voices to be heard and their votes to be counted. This is a proud union with a new generation emerging in the shipyard. This contract gives them solid footing to flourish."
Redmond was USW Chief Negotiator and serves as USW International Vice President for Human Affairs.