Army Secretary Christine Wormuth said Wednesday the upcoming fiscal year 2023 budget request will include "a lot of continuity" in funding for future maneuver platforms, with the service preparing for major investments in the coming years as new helicopters and combat vehicle programs move toward production.
"I'll note that when you see the FY '23 budget, which is going to get it here, it may be a few more weeks but we'll see it, you'll see a lot of continuity for those big programs," Wormuth said at the McAleese Conference. "But after a few years of initial work on [Future Vertical Lift] and ground vehicles, we're reaching a point where, obviously getting out to the mid- and far-[term] years, the investments required are going to be very significant."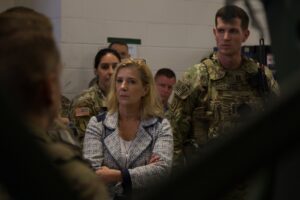 With programs such as the Future Attack and Reconnaissance Aircraft and the Bradley-replacing Optionally Manned Fighting Vehicle moving through competitive design and prototyping phases, Wormuth said lessons learned from the development process will inform cost estimates ahead of the move into building actual systems. 
"I think in the next couple of years, we're going to learn a lot more. We're going to gain both technical insights and also insights from a cost standpoint as we start building real prototypes, doing flight tests, essentially moving from working with computer models to real systems. That will help us understand how projected expenditures are going to solidify over the next couple of years," Wormuth said.
During last year's budget cycle, Army officials noted the service must prepare for increasingly tougher divestiture and procurement reduction decisions with less "low hanging fruit" available to shift funds from legacy and enduring platforms toward modernization through the ongoing "night court" review process (Defense Daily, May 14 2021). 
In response to a question from Defense Daily, Wormuth noted the Army has previously moved to stretch certain program schedules to continue fully funding modernization and may need to continue to do so if future budget increases are relatively flat. 
"There is not a lot of fruit left on the tree. There may be a few small, scrawny apples way up on the top that we can pick on but I think the Army, with three rounds of night court, has largely looked already at what legacy systems we can move away from," Wormuth said. "We may have to do some more of that potentially. There's not a lot left in terms of legacy stuff that we can divest."
This past fall, Wormuth said the Army may have to "look really carefully" at the future funding for its modernization portfolio facing a flat budget environment outlook (Defense Daily, Sept. 8 2021). 
"I think given external pressures on the defense budget, whether it's inflation, the rising personnel costs that we face, the need to modernize the nuclear triad…we're going to have to make sure in the Army that we continue to sustain our transformation over time, even as potentially we may have flat-ish budgets," Wormuth said Wednesday.
Wormuth, however, echoed recent comments from Gen. James McConville, the Army chief of staff, that leadership remains confident in the ability to deliver on the Army's full slate of more than 30 signature modernization programs (Defense Daily, March 8). 
"Basically every year we're going to have to look at not just the modernization account but our other accounts and figure out whether we have to make trades. At this point, I feel pretty comfortable that we're going to be able to maintain our momentum for modernization," Wormuth told reporters following her discussion.