The Army could look to stretch the delivery schedules of its modernization platforms to save costs if the service is faced with a significant reduction in topline spending, a lead equipping official said last Thursday. 
Lt. Gen. James Pasquarette, the Army G-8, also said further reductions to certain legacy and enduring programs would be "very concerning" if the Army is required to continue reallocating its own dollars to ensure future weapon systems are fully funded.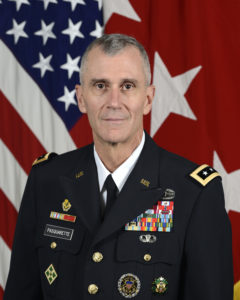 "There has been a lot of progress in [modernization] over the last three or four years, but that progress is fragile," Pasquarette said during a McAleese conference discussion. "We continue to fund those priority programs at the cost of the other programs in the equipping portfolio."
Pasquarette echoed comments from Army senior leaders that the service remains committed to developing its "31+4" signature systems, which include Future Vertical Lift and Next-Generation Combat Vehicle programs, but said the service could look at opportunities to save costs for those efforts that are not meeting cost or schedules parameters or are lower down the priority list.
"Of the 35 efforts there, there's probably some there that are having a yellow light. Then that becomes a place we can take some dollars, if we have to," Pasquarette said. "Neither is a good option, but it's something we may have to face and those decisions will be before our leadership to face."
The Army has cut or reduced scores of programs through its "night court" reform process over the last three years to shift more than $30 billion to modernization, which Pasquarette said has left officials with less flexibility for where to make adjustments in the coming years.
"This is due to the fact that we didn't get a topline increase, as I mentioned it was flat. This was all resourced internally by doing this prioritization. So that has put those non-CFT [efforts], those legacy and enduring [platforms], in a very precarious position. Some are on the edge of viability," Pasquarette said. "Those legacy and enduring programs remain essential capabilities. We can't operate as an Army without them. And they are sometimes called the unloved. Inside the equipping portfolio, we've taken whacks at them three years in a row."
Pasquarette said the Army's approximately $35 billion equipping portfolio is split between 47 percent going toward signature systems and development of key technology enablers with the remaining 53 percent dedicated to legacy and enduring platforms. However, over the course of the next five fiscal years that balance will shift to about 50-50 in funding.