The Army does not plan to change its six modernization priorities but may consider the possibility of cuts to its more than 30 programs supporting each of those areas if future resources are constrained, according to the service chief of staff.
"You want to stick to priorities. And you want to stay with it so industry can invest. And industry has invested. And I believe that we still have the requirement for these systems and we need to get the resources to field them," Gen. James McConville said during a Heritage Foundation discussion on Thursday.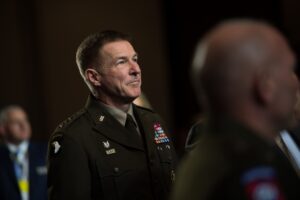 The Army's modernization agenda is focused around developing "31+4" signature systems across those six priorities: integrated air and missile defense, long-range precision fires, future vertical, next-generation combat vehicles, soldier lethality and the tactical network.
When asked if the "31+4" could become something like "28+2," McConville said "anything is possible" and reiterated that the Army may have to make those tough decisions facing a potential tighter budget environment.
"I think what we're going to take a hard look at is each program that's under the '31+4' signature systems. How are they doing? And as I talk to industry, we have to make tough decisions. Tough decisions become a lot easier when you have a program that's not on performance, that's not on schedule, that's not on cost," McConville said.
Army Secretary Christine Wormuth has made similar comments previously, saying the service will have to "look really carefully" at its modernization portfolio and suggesting potentially adjusting program schedules as a means to create budget flexibility (Defense Daily, Oct. 11).
"There are definitely, I think, going to be more tough choices ahead, but we're also trying to find savings wherever we responsibly can and also trying to be innovative in how we're managing the many demands on our budget," Wormuth said this past September (Defense Daily, Sept. 8).