New Army Secretary Christine Wormuth said Wednesday the service will have to "look really carefully" at the future funding for its full slate of more than 30 modernization programs as it makes potential program cuts facing a flat budget environment outlook.
"We're going to, I think, continue to have to make hard choices. And, as we look at our modernization program, which is ambitious and is really a sort of once-in-40 years approach, we are going to have to look really carefully at the [30-plus] programs as well as the enablers [supporting those programs]," Wormuth said during a Defense News
Conference panel. "There are definitely, I think, going to be more tough choices ahead, but we're also trying to find savings wherever we responsibly can and also trying to be innovative in how we're managing the many demands on our budget."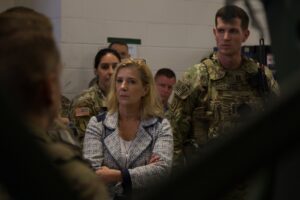 The Army, to date, has continued fully funding development of its "31+4" signature programs, which ranges from new combat vehicles to long-range fires systems, by cutting or reducing lower priority programs through the "night court" review process and shifting billions of dollars toward modernization accounts.
Officials, however, have said previously that the outlook for a tight budget environment and less flexibility in the "night court" process to make adjustments to current programs could lead to saving costs by adjusting the schedules for modernization programs that are not meeting cost or schedules parameters or are lower down the priority list (Defense Daily, May 14).
"There are going to be places where we're probably going to have to make choices that we're not thrilled about," Wormuth said. "I don't doubt that there'll be some decisions that we have to take that we'd prefer not to, but at the same time we're very committed to our overall transformational modernization approach which we absolutely need to be able to have the Army that we need as we look to the future."
Wormuth reiterated that "potential hard choices" to modernization programs would be informed by cost, performance and schedule metrics as well as evaluation of prototyping performance and the affordability to produce a capability at scale.
Gen. Mike Murray, head of the Army's modernization-focused Futures Command, has said previously he's optimistic the service's next five-year spending plan, to be rolled out along with the fiscal year 2023 budget request, will continue to protect the full range of more than 30 modernization programs (Defense Daily, June 9).
Wormuth noted both the House and Senate Armed Services Committees have approved increasing FY '22 defense spending by $25 billion in their respective defense policy bills, to still be worked out in conference, while adding that the future outlook will still require conservative fiscal planning.
"Obviously, it looks like Congress is going to potentially provide more funding than President Biden requested and we'll see how that takes shape in its permanent form. But I think, for us, it's prudent to be pretty conservative in our assumptions and also need to be looking at things, frankly, like inflation and the inflation rate and how it may be affecting our purchasing power. So there's going to continue to be downward pressure," Wormuth said.