The Army will use results from Project Convergence (PC) to inform funding decisions for its modernization programs, the service's secretary said Wednesday, noting that senior leaders face "hard choices" ahead in a likely flat budget environment.
Army Secretary Christine Wormuth told reporters at the conclusion of the six week-long PC '21 demonstration that the latest iteration of the event particularly highlighted the need to resource foundational capabilities for networking and assured position, navigation and timing (PNT).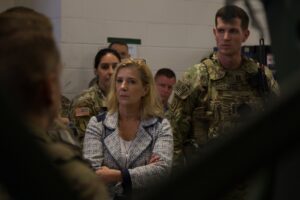 "We do need to be looking at, coming out of PC '21, what technologies, for example, have the potential to be transitioned relatively soon into the operating force, because there may be technologies that are ready to go. I don't want to give specific examples right here, but I certainly saw some things that we could start using right away. There are some that are still more aspirational," Wormuth said. "It was very clear to me coming out of this that the network is really going to be foundational and making sure that we can have an assured, reliable, resilient network underlying all of the systems that we're using. Similarly, it's making sure we can have assured PNT. As I think about the budget, those are capabilities that we know that we're going to have to make sure that we have resources for."     
Wormuth has said previously the Army will have to "look really carefully" at the future funding for its full slate of more than 30 modernization programs facing tighter budgets, and last month noted the service may still consider the possibility of adjusting the schedules of its modernization programs as a means to create budget flexibility in the coming years. (Defense Daily, Oct. 11). 
"We are in a period of sort of flattening budgets right now. We've got to recapitalize the nuclear triad. So I think resources are going to be an issue for us, and as a result we in the Army are taking a look at everything we do and everything about how we do it. I think we're going to have to look at force structure. I think we're going to have to look at the different types of force structure. We're going to have to look at our people. We're going to have to look at our readiness levels. And it's our responsibility, the chief and I, to make those hard choices and deliver the best Army with the resources we're given by Congress," Wormuth said.
Project Convergence is the Army's new annual demonstration that aims to understand how the Army's future capabilities, as well as joint partners' assets, can form new sensor-to-shooter capabilities and help inform the service's new Multi-Domain Operations concept and the Joint All Domain Command and Control initiative. 
Wormuth said the experimentation on data and modular open system architecture concepts at PC '21 could open opportunities for additional savings in the future. 
"A lot of this is actually looking at how we use data, how we use software, how we use algorithms to better connect sensors to shooters. So I actually think there's potential for us to have some offset savings," Wormuth said. "The more we can move from eight ways to look at the battlefield to four pictures of the battlefield to finally one picture of the battlefield, we then won't need as many people to do that. So we may be able to actually get rid of some of our legacy IT systems and things like that as we bring online some of these new things. There's potential there for savings, frankly."
Gen. James McConville, the Army chief of staff, also told reporters he's seen "exponential progress" from PC '20 to this year's event, in terms of the advancement of prototype capabilities and interoperability with joint partners. 
"What I've seen is the ability to move data, the ability to have speed, to have range and convergence and the speed of decision dominance. I've seen a significant increase," McConville said. "Even more important was working with the other services out here and the ability to work close together as a joint force. I've seen tremendous progress being made with that."
New technologies rolled out at PC '21 includes prototypes for Army Future Vertical's modular effects launcher and XM915 Gatling gun as well as further demonstrations with Air Launched Effects-small prototype and experimentation with a new electric-powered, solar-charged fixed-wing drone from Kraus Hamdani Aerospace, called the K-1000P, for expansive network bridging (Defense Daily, Nov. 9). 
Wormuth said she could see PC events and the overall campaign of learning continuing for at least the next 10 years to cycle in the necessary experimentation to further the advancement of modernization systems. 
"I think we need to continue Project Convergence for a while longer. I think there are more technologies [to test]. We can build on a level of jointness. We need to build on the level of combined allies and partners. But I think there will come a point where we sort of culminate in terms of a level of value that we're getting out of the experimentation," Wormuth said. "Frankly, we went for 20 years as a joint force without a lot of experimentation and without paying a lot of attention to innovation because we were so busy with the [counterinsurgency] and counterterrorism fight. As a result, countries like China made a lot of progress in those intervening years. So I think we still have a bit of experimentation and innovation to do."