YUMA, Arizona —From rolling out a new modular effects launcher and XM915 Gatling gun prototypes to nearly tripling its network range capability, the Army has achieved around 30 new Future Vertical Lift technology "firsts" at this fall's Project Convergence demonstration as the service looks to prove out its future fleet's contribution to multi-domain operations.
During a recent visit to Yuma Proving Ground (YPG) in Arizona, programs officials detailed FVL's role in five of the seven use cases at Project Convergence (PC) 2021, which involved UH-60 Black Hawks and AH-64 Apaches serving as surrogates for the Future Attack Reconnaissance Aircraft (FARA) and Future Long Range Assault Aircraft (FLRAA), a range of  kinetic weapons, three unique electronic warfare pods, and an array of prototypes systems all connected across eight waveforms to showcase advancements in modularity and interoperability.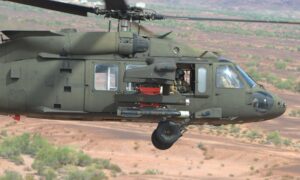 "We're advancing and improving on our joint interoperability. Obviously, all the use cases have stressed us to prove that we have the adaptive command and control networks to operate at the speed and the depth of a future battlefield," Maj. Gen. Walter Rugen, director of the FVL Cross-Functional Team, told reporters.
The Army held the first Project Convergence demonstration last fall at Yuma Proving Ground in Arizona, which brought together future capabilities, artificial intelligence-enabled systems and a new "computer brain" to prove out capacity for passing targeting data in a matter of seconds (Defense Daily, Sept. 24). 
This year's demonstration features increased participation from the other services to help further progress on the Joint All Domain Command and Control initiative, with the use cases covering components of the Army's Multi-Domain Operations (MDO) concept to include penetration, disintegration of enemy air defenses and exploitation.
The six-week event, which includes aviation assets spanning from YPG to White Sands Missile Range in New Mexico, builds off May's FVL-focused EDGE21 demonstration at Dugway Proving Ground in Utah, where the Army focused on how the lower-tier of the air domain can connect ground, space and additional upper-tier assets to pass highly-specific targetable data in concise packages for improved situational awareness on the tactical edge (Defense Daily, May 17). 
"One of the differences that you'll see this year is we have added additional capabilities, from say at EDGE21, that have enabled us to increase the ranges in which we are able to operate in or leveraging automation or artificial intelligence to help speed up decision making cycles and eventually project more combat power at greater distances in less time than it has previously taken us before," Lt. Col. Tanner Spry, the FVL CFT's G3/5/7 experimentation planner, told reporters. "What is changing from PC '20 to PC '21 is increasing our ability to integrate into the joint force, it is improving our command and control and extending the range of our network that we're able to operate in."
The Army has achieved nearly a three-times increase in its mesh network range extension over what was accomplished at PC '20 with fewer assets than was required at last year's demonstration, officials told reporters.
"We're pushing that network out and tunneling our waveforms forward and providing, for a lack of a better term, the [retransmission capability] to get what would be very high value or high payoff targets and sensing those in a multi-intelligence way back to the right shooter. We're doing that and we're better at it than we were [previously]," Rugen said.
A new electric-powered, solar-charged fixed-wing drone from Kraus Hamdani Aerospace, called the K-1000P, is helping achieve this range extension at PC '21 by offering a network bridging capability that allows air and ground assets using different radios and waveforms to be seamlessly connected.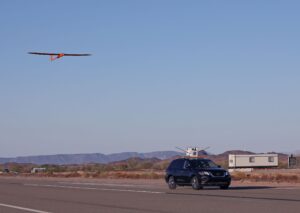 "We've created that onboard to ensure that we do that network bridging and translation. And, obviously, power and energy are key components on our assets because we needed a small footprint operationally as well from a radar signature standpoint. It's a 100 percent electric asset that is flying. And we're working on the swarming technology to bring multiples of these assets to truly cover an extensive area of operations and fully autonomously knowing where there is a gap in communications and how we can reconfigure to get best coverage," Fatema Hamdani, CEO of Kraus Hamdani, told reporters. 
Rugen emphasized the importance of showcasing the Army's pursuit of "air vehicle-agnostic capabilities" and progress made in developing critical enabler systems for the future fleet, such as the new Modular Effects Launcher (MEL).
The MEL was conceived last year, with a prototype then built by Fulcrum Concepts, a small company in Virginia, with reporters seeing a configuration integrated on a Black Hawk that consisted of carrying a four-shot rocket pod, two pneumatic launchers for Air Launched Effect (ALE)-Smalls and an M34 dummy Hellfire missile.
"[MEL] allows us to mix and match [weapon systems] as the commander needs on the battlefield based on the threat that they see and the mission that they're to accomplish," said Lt. Col. Cameron Keogh, chief of flight test for the Army's Combat Capabilities Development Command, who noted an initial rocket shot with MEL was conducted in August before firing ALE-Smalls for the first time at PC '21 in October. 
The Army has also fired its new General Dynamics [GD]-built electrically-actuated 20mm three-barrel XM915 gatling gun prototype at PC '21 which is capable of firing 1,500 rounds per minute and is in development for FARA.
"[The XM915] shoots fast. It shoots well. And, in this integration, it actually shoots very accurately. I was pretty impressed about that," Keogh said. 
Autonomy is an additional focus area at PC '21, to include the Army remotely conducting the first autonomous launch of an ALE-Small prototype from a Black Hawk using technology developed under DARPA's ALIAS program.
"We did this all remotely from an Army interface. It's not that we did them. It's that we did them in this operational context using the Army system on the mesh network," said Stuart Young, DARPA's program manager for ALIAS, noting the autonomy-enabled Black Hawk also performed the an autonomous resupply mission use case and the first autonomous landing zone task for the first time at PC '21. 
The Army also accomplished several new firsts at PC '21 with the ALE-Small prototype, which is an ALTIUS-600 drone built by Anduril Industries subsidiary Area-I that provides reconnaissance data autonomously, to include reaching extended communication ranges and networking over new waveforms.
Jim Thomson, acting deputy director of the FVL CFT, noted the Army recently conducted a fly-off to inform OTA awards in the second quarter of FY '22 for continued prototyping of ALE-Small's air vehicles, payloads and mission system support.
"Part of MDO drives us to operate disaggregated and then quickly aggregate to create multiple dilemmas for the enemy. So you can imagine if you've got some aircraft in the air that can launch some ALE-Smalls and some DAGORs on the ground that can launch some, and then they swarm in a kind of combined mission. We're giving that commander then a lot of options to create multiple dilemmas," Thomson said.