A pair of lawmakers on Wednesday went to bat for the Army's CH-47F Block II Chinook helicopter and Abrams tank upgrade programs, two areas that may face cuts or reductions in the upcoming fiscal year 2022 budget request, citing potential impacts to the respective industrial bases.
During a House Appropriations Defense Subcommittee (HAC-D), Army Chief Gen. James McConville noted he can't discuss specific program adjustments until the budget is released but said tighter resources will require the service to make "tough decisions" on certain programs.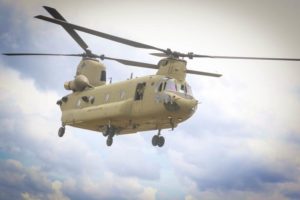 "We talk about the CH-47, we talk about the Abrams tank, we talk about all these great weapon systems that we need, and what do you do if you don't get the resources you need? Well, what that drives you to is maybe slowing down what you want to do," McConville said Wednesday.
Earlier on Wednesday, Rep. Mary Gay Scanlon (D-Pa.) urged the House Armed Services Committee to maintain funding for the CH-47F Block II program during a hearing where non-committee members testified on their defense-related priorities for the next fiscal year.
"The Chinook facility is a critical regional economic engine. It employs over 4,400 people in Southeastern Pennsylvania, Delaware and New Jersey. And across the Commonwealth of Pennsylvania, the Chinook program has 36 suppliers, supports approximately 6,000 jobs and provides an estimated $1 billion per year in economic impact," Scanlon said. "Less than four years ago, the Army certified to Congress that the F Block II program was a critical modernization capability only to try to backtrack and try to cancel [it], putting the Chinook at a competitive disadvantage and placing thousands of jobs and advanced heavy lift capability at risk"
Scanlon specifically said she would like to see the FY '22 budget include $140.9 million to procure the second buy of CH-47F Block II low-rate initial production aircraft, $52.2 million in advanced funds for long-lead items to procure nine CH-47F Block II aircraft in FY '23 and $28.7 million for research and development funding for further development and directive report language for the Army to execute the CH-47F Block II modernization program.
During the last budget cycle, Congress blocked the Army's attempt to reduce the CH-47F Block II program and instead added $189 million for the program to include production of five aircraft (Defense Daily, Dec. 22).
"While there are Future Vertical Lift modernization programs underway, there is currently no heavy-lift modernization program to replace this critical capability which the Chinook provides to the United States Army…and allies around the world," Scanlon said.
Rep. Tim Ryan (D-Ohio) asked McConville about the Army's plans for continued upgrades to its Abrams tank, which includes work done in his home state, citing his concern that the service could "ratchet it down to a level that it become nearly impossible or super expensive to ramp it back up."
"In light of the Army's continued focus on our near-peer adversaries, it seems to me that there'd be no reason to decrease production of upgraded Abrams tanks in the coming years," Ryan said. "I understand fully that you're looking to find funding for modernization, but I want to caution the Army against doing that on the back of our defense industrial base. If the Army sees a future in eventually modernizing the Abrams tanks, we need to have a robust production line to get us to that point."
McConville said the Army can come back to HAC-D with a more complete answer on its future plans for future Abrams upgrades once its resourcing for FY '22 is finalized, but indicated that funds could be tighter in the next budget.
"That may drive us to make some tough decisions that people are not going to like," McConville said.