The Army's move to reduce 37 programs to find over $1.5 billion in savings in its FY '22 budget request included pulling a planned $577 million increase for the Armored Multipurpose Vehicle (AMPV) program and over $154 million from Abrams tank upgrades.
Documents provided to Defense Daily
on Thursday listed out the 37 programs, which along with the seven cancelled programs, totaling $48 million, in the request adds up to Army's $1.6 billion in savings from the latest round of night court reviews.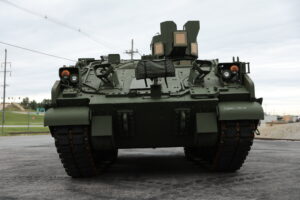 The following programs were also included in the reduction list: $134.8 million from the M88 HERCULES recovery vehicle, $70.4 million from Distributed Common Ground System-Army, $47 million from the Patriot air and missile defense system, $42.7 million from advanced cyber tool development, $26 million from the Assault Breacher Vehicle, and $52 million from the Family of Weapon Sights-Crew Served.
The Army's $173 billion FY '22 budget request released last Friday, which would be a $3.6 billion cut from the service's FY '21 topline, includes plans to reduce the number of planned Abrams tank upgrades and allocating $105 million for AMPV effectively delaying plans to ramp up production out to FY '23 (Defense Daily, May 28).
Maj. Gen. Paul Chamberlain, the Army's budget director, told reporters on Tuesday that the production line for AMPV, which is built by BAE Systems, is "not quite where it needs to be" to get after the increased production (Defense Daily, June 1).
The seven programs cut to save $48 million in FY '22 are the Multi-Function Electronic Warfare pod, the Aviators Night Vision Imaging System, Hellfire Missile Launcher, the 2.75-inch rocket launcher, the Lightweight Counter Mortar Radar, the Spider Networked Munition System and the Joint Technology Center Systems Integration program.
The Army's $4.4 billion unfunded priorities list, submitted to Congress on Tuesday, includes a request for $120 million to cover 340 more Joint Light Tactical Vehicles and $252 million to procure five more CH-47F Block II heavy-lift aircraft (Defense Daily, June 2).