An Army official on Tuesday offered details on program reductions included in the service's FY '22 budget request, to include stretching production of Joint Light Tactical Vehicles (JLTV) and the new Armored Multipurpose Vehicles (AMPV), while reiterating that future "night court" reform decisions will likely yield smaller returns in the coming years.
"After three years of working through night court deep dive decisions, we've identified most of the places where we can potentially take a reduction or an elimination. Anything in the future is going to be much smaller," Maj. Gen. Paul Chamberlain, the Army's budget director, told reporters.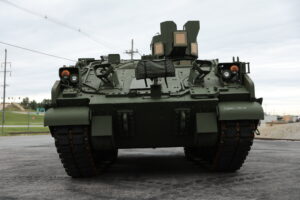 The Army's $173 billion budget request released last Friday, which would be a $3.6 billion cut from the service's FY '21 topline, included plans to cut seven programs to save nearly $48 million while making reductions across another 37 programs to shift $1.6 billion toward modernization efforts (Defense Daily, May 28).
Programs that have been reduced or "stretched" to free up funds include Abrams tank upgrades, select munitions, radios and communication security equipment, along with the procurement plans for the JLTV and the new AMPV.
"The decision to take a little bit of risk here, on JLTV, is knowing full well that we can continue buying the program into the future," Chamberlain said, adding that the request would likely lead to lengthening the program's production timeline.
Under the budget request, the Army is planning to reduce JLTV procurement from $884 million in FY '21 down to $575 million in FY '22.
Chamberlain said he does not expect the JLTV adjustment to have an impact on the Army's plans to recompete the production contract as soon as next year.
"We still intend to recompete. The advantage we have going into the recompete is we own the data rights to the vehicle, so it's going to be about who can produce the required vehicle at a given cost," Chamberlain said.
Oshkosh Defense [OSK] currently produces the JLTV while GM Defense [GM] told Defense Daily in early May the company has started lining up partners as it looks to compete for the Army's follow-on production contract (Defense Daily, May 4).
For AMPV, which is produced by BAE Systems, while the program received a slight increase in the request, going from $63 million this year to a proposed $105 million in FY '22, the funding level falls below what the Army had laid out previously in its plans to ramp up procurement next year.
Chamberlain said the AMPV production line is "not quite where it needs to be," adding that the production ramp up will likely be pushed out to at least FY '23.
"We think [if there's] just a little more time to reset that [production] line and then we can create a gradual ramp up of production in [FY] '23 and out," Chamberlain said.
Unlike in previous years, the Pentagon's budget materials did not include Future Years Defense Program (FYDP) details outlining estimates for procurement beyond the next budget cycle.
The Army announced in March it plans to begin the initial operational test for AMPV in January 2022, which will start after the service has received 64 low-rate production vehicles by November of this year (Defense Daily, March 16).