The Army is planning to begin the initial operational test for its new Armored Multi-Purpose Vehicle (AMPV) in January 2022, which will start after the service has received 64 low-rate production vehicles by November of this year.
Brig. Gen. Glenn Dean, program executive officer for ground combat systems, said Tuesday the production schedule for the BAE Systems
-built AMPV appears to be on schedule after the program faced an initial production line issue followed by a delay due to the pandemic.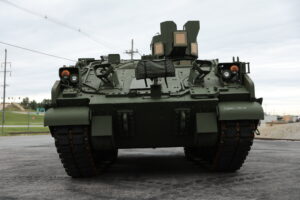 "We've encountered quite a few challenges along the way with this. With the standup of really new construction hull builds, something that we haven't done in quite some time," Dean said during a discussion at the virtual AUSA Global Force Next conference. "We are seeing indications that our production challenges are falling behind us. The last four months have resulted in consistent deliveries. We have all the five variants of that platform in hand in their production configuration."
Dean said the delays led the Army to re-baseline the program AMPV, which will replace the Army's legacy M113 armored personnel carriers, which caused the slight push in the operational evaluation schedule.
"Between the learning curves associated with new construction and the COVID pandemic hitting our supply chains, AMPV ramp-up has been slow. Frankly, we've re-baselined the program earlier this year in order to account for that. That has pushed our operational test a little bit to the right. But all of the performance characteristics that we're seeing and that we've learned on that platform indicate that it's a substantially better platform than what we have in the M113," Dean said.
Maj. Gen. Ross Coffman, director of the Next-Generation Combat Vehicle Cross Functional Team, said last week BAE Systems has delivered 20 AMPVs to date, including vehicles across all five variants: a general purpose vehicle, the mission command vehicle, a mortar carrier, a medical evacuation vehicle and a medical treatment vehicle (Defense Daily, March 12).
The AMPVs the Army has already received are going through live fire and production qualification testing ahead of the operational evaluation early next year, according to Dean.
"Those three things have to come together before we have a fieldable system at the end of the day," he said.