The Army has awarded BAE Systems a five-year, $600 million deal for sustainment work on the Armored Multipurpose Vehicle (AMPV) program, to include future integration of new technologies on the vehicles.
The company noted the deal will take advantage of the platform's built-in capacity for capability growth, to include the "ability to enhance power generation capability to enable future electronic and network connectivity upgrades."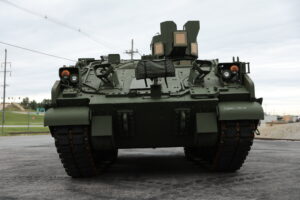 "The AMPV family of vehicles will bring unmatched capability to the battlefield and has demonstrated outstanding survivability and force protection as well as flexibility and growth for the future," Bill Sheehy, BAE Systems' AMPV program director, said in a statement. "This contract award will not only support production, but it will also allow for future upgrades through the development and integration of new capability sets onto existing variants."
AMPV is the Army's program to replace its legacy M113 armored personnel carriers, with plans to receive 64 vehicles by November ahead of starting initial operational test and evaluation in January 2022 (Defense Daily, March 16).
Maj. Gen. Ross Coffman, director of the Next-Generation Combat Vehicle Cross Functional Team, said in March that BAE Systems has now delivered vehicles across all five AMPV variants: a general purpose vehicle, the mission command vehicle, a mortar carrier, a medical evacuation vehicle and a medical treatment vehicle (Defense Daily, March 12).
The Army did include AMPV as one of 37 programs in its fiscal year 2022 budget request that were reduced in order to shift savings toward higher priority areas, with plans to "stretch" vehicle production by pulling a planned $577 million increase for the program.
While the program received a slight increase in the request, going from $63 million this year to a proposed $105 million in FY '22, the service's budget director noted the funding level falls below what the Army had previously laid out which would effectively delay plans to ramp up production out to FY '23 (Defense Daily, June 1).
The Army announced the sustainment contract on July 7.